This article is a revised and updated version of one that appeared in
Educators' eZine, techlearning.com, October 1, 2008.

I stood in front of the classroom and turned on the power to the overhead transparency projector. Placing a paper printout on the projector, I was met with a projected shadow of the paper and advice from a polite student at Austin High School; "Mr. Frisk, you have to use a transparency with the projector. Paper will not work." Twenty-three years earlier, I had graduated from this school and had just returned as a non-certified substitute teacher, in front of a classroom for the first time. I had never appreciated the stand-alone transparency projectors, desiring something that would show an image printed on paper.

A generation later, I discovered little had changed in the classroom, with the exception of white boards replacing black boards, a computer on the teacher's desk, and resemblances of my old classmates in the faces of their children I was now privileged to instruct. A few years later, on my first night in graduate school, I found the projector I desired.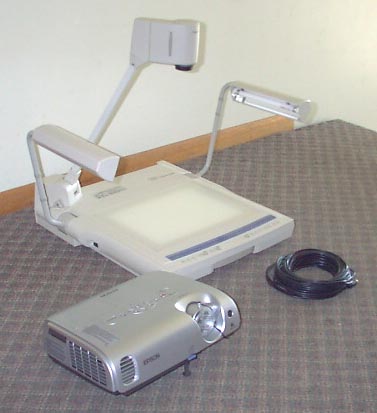 A Canon document camera, an Epson projector and 50 feet of S-Video cable.
A projector at 1600-2000 lumens works fine in the classroom.

A Better Way to Present
The document camera, commonly known as a video visualizer/presenter or Elmo, a popular brand, is a modern replacement for the stand-alone overhead transparency projector, a device first developed to train soldiers during WWII (Crystal, 2008). Document camera technology consists of a video camera mounted on a stand with an illuminated display platform under the camera lens. Material is placed on the platform and projected through an overhead-mounted projector or by way of a television set.

The document camera can display almost anything placed under its lens, including transparencies, opaque materials such as black and white or colored paper printouts, and 3D objects. There is no waiting in line at the copier to create a transparency minutes before class begins, and no standing in front of the class, getting in the way, while presenting material. A teacher can stand at the back of the classroom or off to one side and display material via an S-Video cable attached to the camera and leading through the ceiling to a projector or TV. Any printout or anything in a book can be displayed by setting it beneath the camera lens, and transparencies can be viewed by turning on a base light. The learning curve with this technology is short, often measured in minutes.

Document Camera Advantages
A dozen document camera advantages:
Display paper printouts, slides and transparencies
Display text and/or photos from a book
Display three-dimensional objects
Display and save "live" images
Display in color or B & W
Zoom in and out capability
Long-lasting fluorescent lighting
Ease and spontaneity of operation
Students pay better attention
Students can show off their work
Useful across disciplines
Does not require a computer or networking
Document Camera Disadvantages

Document camera disadvantages are few but serve to limit their acceptance. They are:
Far greater cost than stand-alone transparency projectors
Require a projection unit or TV set
Lack of familiarity among teachers and school administrators
Content Clarity and Time on Task
The document camera is a marvelous tool for increasing content clarity. A teacher can do live demonstrations under the camera lens to show students exactly what is being asked of them. An example is filling out a standardized test form, under the camera, so students can see how to correctly prepare the form. I did this during student teaching and my mentor teacher commented it was the first time in his twelve years of classroom instruction that students did not pose a question on preparing the test form. Watching me fill out the form, live under the camera lens, trumped any verbal instruction I could have given.
Veteran teachers who have observed my document camera in use have described student time on task as phenomenal. Students pay attention to this exciting technology. I can lecture 8th graders for 25 minutes without a single head hitting a desk, as the nearly unlimited content that can be shown is a huge advantage when it comes to making presentations fun for students of all ages and abilities.
Continued on next page »