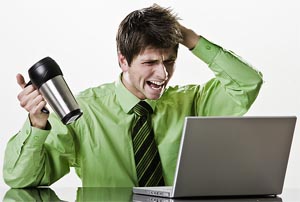 "Frustrated" initiated the discussion with this post:
I am a new teacher in California, which means I have to go through BTSA, our new teacher induction program. All I can say about it is that it's so FRUSTRATING!! They say it is designed to "help" us ... but all it's doing is giving me more meetings, more days out of my classroom and more paperwork. I had to cancel a meeting with my support provider last week due to a parent conference, and he's giving me a hard time about it. I apologized for canceling, but at the same time, I want to ask him what he expects me to do. Parent conferences are important to my job; meeting with him so I can talk about where to find emergency supplies is nice, but not a priority!
Do other states have programs like this or is it just another crazy component of California's bureaucracy? For California teachers: does anyone feel it has actually helped them??

Posted by SameInNc
I was wondering how they figured here in NC that a new teacher would have any extra time for "meetings" that are supposed to help us as first year teachers. There is NO TIME!!

Posted by Mshope
Yes, we have an induction program here. It is required by our state but I think my district makes it more hellish. We have all these projects and presentations we have to do. Ours is so ridiculous, it is like another graduate class. All theory, nothing practical that can actually help in the classroom.
Plus, we have meetings with our "mentor." Really, they don't mentor us but assign more meaningless work. Everyone HATES our induction program and resents the time it sucks up.

Posted by Mike
I am pretty sure almost every state has some sort of induction. I have friends in Mich. NY, Mass, and VA and they all have some sort of process to go through.
I haven't been able to figure out why much of it is important nor can I find a teacher or administrator who can. The best answer I could get out of my principal is "I don't know why they have you do all this, but you have to do it to get tenured."
In a moment of frustration I actually brought it up in my induction meeting. I asked the instructor what I should be getting out of this process. I told her I did all this in school and it seems redundant to me. Her response was, "The state needs to make sure that all teachers are on the same level so that the quality of teacher is the same state wide. We can't assume that your school has taught you everything you need to know in order to be a teacher here." I don't know. If you want to change it, run for office.

Posted by Hal Portner, (author of multiple books* on mentoring and induction)
Quoting Mike: I asked the instructor what I should be getting out of this process. I told her i did all this in school and it seems redundant to me.
You presumably have acquired considerable expertise from your most recent college experience including in depth knowledge about a particular subject and an extensive repertoire of instructional theories. In fact, although you may be a novice in the teaching profession, you may actually know as much, possibly even more, about some of the latest developments in these areas than some experienced teachers do.
However, before you sit back complacently, consider this: "A college degree in education only takes you so far. It prepares you to become a beginner in a complex world. What expert teachers have is case knowledge. They can go back in their memory banks to compare situations and figure out what to do . . . they know from references stored in their memory how to get from point A to point B. Novices have no such stored experiences.
The role of an effective induction program, including a well trained mentor, is to guide a novice through the first three years on the job and provide opportunity to better gain and fine tune that case knowledge and how to best apply it. For starters, figure out how to best take advantage of that help and how to get the most out of it.

Posted by Mike
Thanks for that response Hal!
I am firmly aware that I have no idea what I'm doing or where I'm going. I know I make many mistakes each and every day. And I know the direction I'm going will only get clearer with experience.
Now, I don't want there to be a misunderstanding that I am against all forms of Induction Class. I am an educator, so I can fully appreciate how "(older teachers) know from references, stored in their memory how to get from point A to point B. Novices have no such stored experiences." That's what I do every day with my kids. I have no problem with the theory behind having induction classes. It's the execution of the class that I (and many, many others) have a problem.
The state demands our district to run it and have provided for them parameters which they have to follow. The induction teachers are there only as a vehicle to drive those parameters. They are told explicitly what to do, and they are paid to do it. I know this because every time we change topics my induction teacher starts out by saying "Now we have to do this....." putting a "you don't want to be here, and I know it, but this is what we have to do" twist on everything.
From my microscopic experience (of teaching and life in general), the older you get, the less likely you are going to be enthusiastic about doing something you have no say in. She is not enthusiastic because she has no flexibility (and if she does, it doesn't show). And that is terrible for any teacher.
We're not enthusiastic about being there because we are tired, overwhelmed, and thinking about the 10,000 other things running through our head that we have to do for tomorrow. So that's our starting point for the class. I'm sure, being an experienced educator, you can see the problem with that right away.
I don't know, Hal. I love learning. That's why I got into education. Because I have so much experience learning, I know when I am and I know when I'm not. This is the problem most of us are running into with induction class.
Continued on next page »


» More Gazette articles...