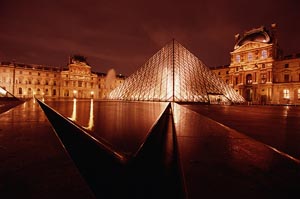 Dear Global Travel Guru,

My French class is interested in taking a one-week trip to Paris this August, but I am concerned that the expensive euro will make even the shortest itinerary unaffordable. How can I show my students all that Paris has to offer without breaking their piggy banks?

Peggy Hughes

Media, PA

Dear Peggy,

You are right! The euro has been spiraling out of control, hitting an all time high of about $1.60 this time last year. Luckily, the City of Lights has a few tricks up her sleeve that will drastically reduce costly entrance fees and provide an alternative to expensive private coach transportation.

Your best friend in Paris is going to be the Paris Pass - your ticket to over 60 sites including many "must-sees" like the Louvre, Musée d'Orsay and Arc de Triomphe as well as plenty of esoteric sites like the Archeological Crypt at Notre-Dame that would satisfy even the fussiest of Franophiles. The pass also gives you unlimited use of Paris' Metro subway, public buses and trams within Zones 1-3. Plus, you can ride the Montmartre funicular to Sacré-Cœur.

If that weren't enough, the Paris Pass also includes a special Open Top Bus Tour, which makes a great introductory panoramic tour of Paris, and a Seine River Cruise, offering a completely different view of the city. Ooh la la! You can use your Paris Pass to visit as many attractions as you like within one day, and with the exception of the bonus bus tour and cruise, you can revisit most attractions on subsequent days. A 6-day pass for students, ages 12 to 17, is reasonably priced at $105.

If you plan on extending your stay in Paris for a few days, start off your trip using the 6-day Paris Pass to explore the central city. Then finish up with a combo 3-day Paris Visite Metro Pass ($62 for anyone 12 years or older) and a 2-day Paris Museum Pass ($46).

The Metro Pass allows unlimited use of public transportation in Zones 1-6 including the RER and SNCF regional rail lines, which serve suburban locations throughout the Île-de-France as well as Charles-de-Gaulle and Orly Airports. The Paris Museum Pass, while including many of same central sites as the Paris Pass, also offers expanded access to suburban attractions like Château de Fontainebleau and Versailles Palace. Use the Paris Visite Metro Pass and Paris Museum Pass to take excursions outside of Paris on two consecutive days. On the third day, use your Metro Pass to get you to the airport.

All told, that's about $210 for 8 days of unlimited sightseeing and transportation and even an airport transfer to boot. What could be more très magnifique?

Global Travel Guru


» More Gazette articles...