Every morning Barb/MI posts an inspiring or thought-provoking quotation selected especially for educators, referred to as an "Apple Seed," on the main chatboard. The "Apple Seeds" she posted during last month are compiled here...
Be sure to use the Printable link following this list to print out an attractive poster worthy of sharing with teachers and school administrators, and to file for use as a reference tool whenever you need a great quotation!

Wise people speak because they have something to say; fools because they have to say something.
~ Plato
You can always change your plan, but only if you have one.
~ Randy Pausch
You are successful the moment you start moving toward a worthwhile goal.
~ Chuck Carlson
Your hopes, dreams, and aspirations are legitimate. They are trying to take you airborne, above the clouds, above the storms – if you will only let them.
~ Diane Roger
There is no limit to what you can do if you don't care who gets the credit.
~ Keynote
Life owes us little; we owe it everything. The only true happiness comes from squandering ourselves for a purpose.
~ John Marm Brown
The lure of the distant and the difficult is deceptive. The great opportunity is where you are.
~ John Burroughs
To-Do lists help us break life into small steps.
~ Randy Pausch
People don't really care how much we know until they know how much we care.
~ Mike McKnight
The first and most important thing about goals is having one.
~ Geoffrey Albert
The heart that gives – gathers.
~ Hannah Moore
We can light tomorrow with today.
~ Elizabeth Barrett Browning
It's what we learn after we know it all that counts.
~ John Wooden
As you grow older, you'll find that the only things you regret are the things you didn't do.
~ Zachary Scott
I am thankful for the taxes I pay because it means that I'm employed.
~ Nancie J. Carmody
Not everything needs to be fixed.
~ Randy Pausch
For every obstacle there is a solution – over, under, around, or through.
~ Dan Zadra
Love cures people – both the ones who give it and the ones who receive it.
~ Dr. Karl Menninger
Spring is nature's way of saying, "Let's party!"
~ Robin Williams
Wherever you go, no matter what the weather, always take your own sunshine.
~ Anthony J. D'Angelo
We need heart-to-heart resuscitation.
~ Ram Dass
For 200 years, we've been conquering Nature. Now we're beating it to death.
~ Tom McMillan
Develop a good filing system.
~ Randy Pausch
Forgiveness is the finding again of a lost possession.
~ Friedrich Schiller
Those whom we support hold us up in life.
~ Marie Ebner Von Eshenbach
Have faith. You will never be given a problem or an opportunity without at the same time being provided with everything you need to handle it.
~ Dan Zadra
You are loved. If so, what else matters?
~ Edna St. Vincent Millay
There will come a time when you believe everything is finished. That will be the beginning.
~ Louis L'Amour
Rethink the telephone.
~ Randy Pausch
Here is the test to determine whether your mission on earth is finished: If you're alive, it isn't.
~ Richard Bach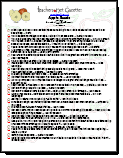 Printable "Apple Seeds" in pdf format


» More Gazette articles...