This Month's News Stories...

Win $1,000 For Your K-8 Chemical Science Lesson
Educators are encouraged to submit lessons for aspiring chemists in grades K-8 that highlight innovative investigations and exciting experiments on the subject of chemistry for an opportunity to win cash awards from the Chemical Educational Foundation (CEF).
The Foundation's You Be The Chemist (YBTC) Lesson Plan Competition will award $1,000 as 1st prize, $500 for 2nd place entries, and $250 for 3rd place entries in the three categories of Scientific Inquiry, Structure of Matter, and Human & Environmental Chemistry. The nine winning lesson plan entries and their authors will be published on the CEF Web site.
Schools can win, too! The school of each category first place winner will receive $250 to be used for science education material. In addition, the first 50 entrants to the competition will receive a complimentary copy of the YBTC Activity Guides: Lesson Plans for Making Chemistry Fun. The YBTC Activity Guides, one for grades K-4, the other for grades 5-8, features detailed chemistry lesson plans, vocabulary, assessments, activity sheets, homework opportunities, and experiment materials that consist of non-toxic household items. A tool that strives to be both educational and fun, the kit provides chemistry concepts with real-world references.
For complete details, rules, regulations, guidelines, and submission categories, visit www.chemed.org. Contest deadline is December 20, 2008.
Teachers Telling Tales: Digital Stories about Being a Teacher
In the summer of 2007, twenty Chicago-area teachers gathered for a weeklong workshop to learn about digital storytelling by creating stories about their lives as teachers and students. Their stories form a unique oral history record of the lives of teachers.
The full collection of videos is posted on TeacherTube.com.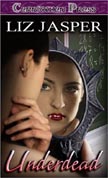 Former Teacher Sinks Teeth into Writing Vampire Novel
Former Middle School science teacher Liz Jasper's UNDERDEAD recently won the 2008 EPPIE Award for best electronically published mystery. The novel is available in e-book form and in paperback at major retailers nationwide. The second book in the series, UNDERDEAD IN DENIAL, is coming soon.
In the boo, science teacher Jo Gartner thinks teaching geology to hormonal pre-teens is deadly… until she is bitten by an inept vampire and becomes Underdead—all the problems of being a vampire, none of the perks.
When she finds a body on her classroom floor with teeth marks in his neck, she must figure out whodunit before her Underdead secret gets out. But she's running out of time. The detective in charge of the case is dogging her every move, her vampire traits are evolving in new and embarrassing ways, and someone wants Jo dead…the traditional way!
For more information and to read an excerpt, visit Liz's website at www.lizjasper.com.

Literacy Learning Beyond the Classroom
ReadWriteThink.org, a nonprofit website maintained by the International Reading Association and the National Council of Teachers of English, announces additions to Learning Beyond the Classroom, a site designed to help children and teens continue to build their literacy learning outside of school.
The site now offers even more activities for children ages 4 to 18 and includes booklists, reading logs, book review podcasts, and best practice videos to help caregivers and tutors make the most of summer reading and writing opportunities. www.readwritethink.org/beyondtheclassroom/summer.
ReadWriteThink.org also receives support from the Verizon Foundation in association with the Thinkfinity.org program.

Eco-Education Adventure
Wild Studies is offering a week-long eco-education adventure for educators and their adult friends 18 years or older on Eleuthera Island in the Bahamas May 29-June 4. No previous outdoor skills are necessary. "Just bring a positive attitude and we will teach you the rest." The program is tailored to the group's interest and skill levels, this is not a cookie cutter experience.
Snorkel over coral reefs, participate in coral reef and fish monitoring activities, learn about tropical ocean ecology, meander through a 3-level tidal cave, explore your own private beach, see places only the locals know and earn graduate credit, too! Cost:$1645.00 per person, departing from Ft. Lauderdale, Florida.
http://www.wildstudies.com/promo/WTBA2008.htm
Teacher Appreciation Special! Free Access to Learning A-Z
A message from LearningA-Z.com: We owe so much of our success in life to teachers. So saying "Thank You" hardly seems adequate to express our gratitude to those who have been so instrumental in the lives of so many.
In appreciation of teachers everywhere, the Learning A-Z family of web sites will open one of its six password-protected websites each day of Teacher Appreciation Week,
May 5 - 9 (plus May 12), so teachers can download and print differentiated teaching materials.
The following websites will be open on the days indicated below from midnight to midnight EST.
May 5: ReadingA-Z.com: Thousands of printable books and lessons
May 6: Raz-Kids.com: Interactive leveled reading library
May 7: WritingA-Z.com: Leveled writing lessons
May 8: VocabularyA-Z.com: Customized vocabulary lessons
May 9: Reading-Tutors.com: Reading skills packets
May 12: ScienceA-Z.com: Multi-leveled science units If you are reading this, thank a teacher!