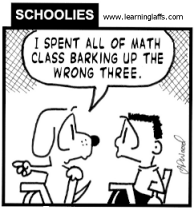 YENDOR'S TOP TEN:
TOP TEN WAYS TO KEEP THE PRINCIPAL OFF YOUR BACK
By YENDOR
Put an autographed photo of yourself on his desk.
Ask him everyday where the bathroom is located.
Be sitting in the front seat of his car at the end of each day.
Frame a photo of his wife and keep it on your desk.
Ask him if he likes gladiator movies.
Call him Skippy.
Wish him a happy birthday every morning.
Ask him if you could paint the schoolbusses pink.
Phone him every night at ten and ask him if he's ok.
Tell him that there is nobody you "hadn't rather work for."
From the Classroom Humor Chatboard
Posted by grade one teacher:
I teach grade one. One day my 14-year-old daughter was in my classroom with me. The students noticed that she was taller than I am. I jokingly complained that I was the shortest person in my family. One little girl, in an effort to make me feel better, said, "Well, she might be taller, but you're still older." My daughter had a hard time containing her laughter!
Posted by Miss BTL:
The Beatitudes - The Greatest Lesson
Then Jesus took his disciples up the mountain, and gathering them around him, he taught them, saying:
"Blessed are the poor in spirit, for theirs is the kingdom of heaven.
Blessed are they that mourn.
Blessed are the merciful.
Blessed are they that thirst for justice.
Blessed are you when you suffer.
Be glad and rejoice for your reward is great in heaven."
Then Peter said, "Are we supposed to know this?"
And Andrew said, "Do we have to write this down?"
And James said, "Will we have a test on this?"
And Philip said, "Does this count?"
And Bartholomew said, "Do we have to hand this in?"
And John said, "The other disciples didn't have to learn this."
And Matthew said, "Can I go to the toilet?"
And Judas said, "What does this have to do with real life?"
Then one of the Pharisees who was present asked to see Jesus' lesson plan and enquired of Jesus, "Where is your anticipatory set and your objectives in the cognitive domain?"
And Jesus wept.