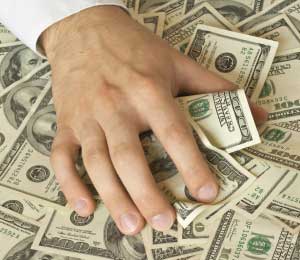 Do you want state-of-the-art supplies and equipment for your classroom? The answer is grant writing!

Grant writing has always been an answer for me for over twenty years. I started working in a public school system that allowed only a 200-dollar budget for a science department of 5 teachers. Needless to say, my students were lacking the ability to understand the scientific concepts because the school could not afford to purchase basic supplies and equipment I needed in order to teach those concepts. I was very troubled because I needed - but lacked - so much for my students, so I asked the school system for more money. It turned out that it was impossible to allow more money for the students because the school was running on a deficit budget for all of the academic departments and activities. I knew then that I had to find another source of support for the needs of my students.

As a result of many nights spent at the university libraries, I was able to tap into the market of grant writing. I was somewhat skeptical because I thought one had to be an experienced writer in order to have a winning proposal selected for funding. Needless to say, I tried my hand at grant writing and as of today I have been fortunate in winning over $1,000,000 in classroom grants and awards!

Some of the grants and awards that I have won are as follows:
GTE Math and Science Grant
Toshiba Science Grant
Honda Science Grant
Georgia State University Chemistry Award
National Science Teachers Award
Richmond Public Schools Incentive Award
Research Enhancement for Teachers University of Virginia Physics
Research Enhancement for Teachers Brookhaven National Labs Physics\
Research Enhancement for Teachers University of Mass. Polymers
Research Enhancement for Teachers William and Mary College Physics
Physiology Research Grant/Award Virginia Commonwealth University Stem Cell Research
Research Enhancement for Teachers Virginia Commonwealth University Engineering Technology Software Research
PEP Petroleum Oil Co. Research Pfisteris/Fish Research
Texas Instrument Grant Award NASCAR Physics Competition
Virginia Educators Association NASCAR Physics Competition
Richmond Public Schools Grant Physics Bridge Building
Bayer Aspirin Grant /Award
CVS Pharmacy School Finalist Grant
Aerospace Rocket Grant
The Michael Jordan Grant
Richmond Public Schools Grant Photography in Cells
Dominion Power Grant
Shell Finalist
Ciba Chemistry Award
Capitol One Grant
Compaq Grant
Department of Energy Research Grant
Department of Agriculture Soy Bean Research
Goddard Space Teachers Research
Physics Association Grant
The above grants and awards are but a few of the awards I have received for my students. In essence, you do not have to be professional writer; if you can develop a lesson plan for your class then you can write a grant.

There are some basic fundamental and techniques that you should use when writing a classroom proposal requesting funding. First, it's a good idea to have a catchy title which will get the attention of the judges. Also, when an abstract is requested, it's important to make this part of the proposal strong and effective in order to convince the judges that this money is needed for your students. Usually your abstract summarizes your entire program or project within a one paragraph or page limit.

GRANT FORMAT

The format for writing a grant is as follows:
Title
Abstract
Statement of need: Why is this program needed in your classroom or school?
Description
Budget
Project Calendar
Evaluation Plan
Summary
Remember that the above format may vary depending on the requirements of the grantor. However, the basic format usually follows the outline of writing a daily lesson plan or unit plan. The title should be an eye opener for judges to remember your submission. Remember, judges usually review countless proposals; therefore you want to write a title that will leave the judges curious about wanting to know more about your classroom project.

The abstract is also another important feature of your proposal. During this part of your proposal you want to be clear and concise. You have about one page - sometimes double spaced - to sell your program. Therefore, the grant abstract actually introduces the reader to your project. We may have had the experience of looking at the first page of a book, magazine and from the information presented on those pages will determine if we want to read further. Many projects and classroom ideas are creative because teachers have a natural nature to develop a lesson plan to motivate the students. Just employ those qualities in creativity towards your abstract.

Next, you must show the judges why your program or project is needed in your classroom or school. The important factor that influences judges in their decision whether to award a grant is the number of students who will benefit from your idea. Of course, the more students benefiting, the greater the chance you will be a recipient of the funds.

The description is probably the largest portion of your proposal. This is the section where you can be very detailed in your description of what students will be accomplishing and how you will implement the program. In writing your description it is often good to list general objectives and build upon your objectives. Also, in the description portion of your proposal you can incorporate the number of volunteers or other teachers needed during the implementation of your program.

Now, "show me the money" is the section where you list all of the items, supplies and equipment you will need. This is the budget section of your proposal. The budget must be in agreement with the format of your program. For example, if you are doing a field study program, do not list desktop computers. You may want to contact the company where you will order supplies and equipment to review prices. Sometimes grant decisions may take several months, and some of your supplies or equipment prices may have changed. Therefore, you always want to incorporate the rising prices of your items in your budget.

The grant writer should be able to develop a significant timeline as to how the project will progress. In order to accomplish your objectives, a timeline is extremely important because the grantors should be able to observe from your proposal the organized manner in which you are developing your innovative program or project.

The evaluation section of your proposal is vital because it allows an individual insight into what methods you will employ to make sure the students have accomplished the objectives. There are several methods that you can use to see if the students gained any knowledge from the activities, including tests, quizzes, journal writing, and surveys. In writing your evaluation plan, you should also be creative in your methods of evaluation. For instance, you may want to you're your students present the final project to local, town councils, business leaders, mentors, local government, etc. Also, many times teachers may elect to have a school fair where students may present their final projects. Presenting your program to the entire school community will definitely cover one requirement of a program being exposed to a large number of students.

Finally, the summary is a comprehensive overlook of your program including mentors and volunteers who may assist you in your program. This is just a review of the important features and possible outcomes which you may project at this time.

WHERE DO I FIND GRANTS FOR MY CLASSROOM OR SCHOOL?

There are several methods of finding grants for your classroom or school. One main source of locating grants of course is the Internet. The internet has numerous agencies and professional organizations offering funds to support your idea. You may have to do numerous Google searches but the sources are out there.

Another avenue of locating a source to fund your program or idea is through your professional organizations. Many educational organizations offer grants to fund specific programs based on your particular discipline. Many organizations offer grants or awards several times a year.

Classroom teachers can also apply for teacher research awards. These awards are given to teachers to study in the summer. Research awards are excellent because you are able to learn more about technology, subject matter and you are being paid as you participate. These awards also allow you to travel and interact with teachers all over the country. You are able to continue valuable teacher relationships sharing ideas, objectives, programs, etc.

Another method of locating money to sponsor your project or program is through local companies, businesses and philanthropists in your area. Many companies will offer educational grants in your particular area. However, if the local companies in your area do not offer educational grants, you may elect to submit a letter explaining the need and desires of your students and how this will keep students motivated and attending schools.

GENERAL TIPS TO INCREASE YOUR CHANCES OF SECURING A CLASSROOM GRANT OR AN AWARD
Submit your proposal on time.
Follow directions to the letter.
List objectives that can be completed.
List only materials that are absolutely needed to complete your project.
Include in-kind contributions in your budget.**
Read and edit paperwork with other classroom teachers.
Stay focused on your particular project.
Make sure your project benefits as many students as possible directly or indirectly
Work with your students' parents for input.
Work with other teachers in and outside your
Submit your proposal to more than one resource.
Be patient.
Do not get frustrated. Work on the proposal, set it aside for a couple of days then return to it.
Do not go over in your budget. For example, if a source is offering $10,000 do not go one penny over in your proposal.
**In-Kind contributions are volunteers that may mentor, assist or work with you in implementing your program. They may not be getting paid, but you convert their hourly, daily or time into funds. This way their services are included under the category of in-kind contributions. These funds are not added but are there to show their monetary value to your program.
Now you're ready to go after the grant money you and your students need!
I welcome questions or comments by email: lavernehamlin@yahoo.com