Classroom Clean-Up
Let's face it. Getting students to clean the room at the end of the day can be a bit of a hassle.
Teacher


Five minutes before the dismissal bell:


Okay, boys and girls, let's take a minute or two and clean the room.
Now, look around the classroom. What have you got?
a couple of conscientious helpers scurrying around the room setting things back in order
a handful of zombie-like stiffs shuffling about in a hopeless daze attempting to appear as if they're actually doing something
most of the students doing not much of anything at all
all of the above
If it's a typical day, the correct answer is: D, all of the above.
Although in your mind you pictured everyone happily involved in this simple cleaning process, it's just not happening. Having given the whole thing a bit of thought, I've come to a realization that there are a coupla-three issues causing most of the problems.
Issue Number One: Fairness
This somewhat invisible force can be a real roadblock in your quest to clean and organize the room. That's because students, for the most part, are incredibly sensitive to issues of fairness. What this means for you, in terms of the clean-up routine, is that there will be a number of students who won't make an effort to pitch in and help out unless they see that other students—especially their friends—are also doing something.
And, really now, can you blame them? Would you be happy having to pull recess duty if you discovered that not all of the teachers were doing their fair share of supervision? Not likely.
If, on the other hand, your students were able to experience a reality in which everyone contributed to the clean-up process, then their concern about fairness would become a non-issue. Their initial resistance to join in and help out would eventually be replaced by a sense of shared ownership of the task to be completed.
Issue Number Two: Uncertainty
Uncertainty in the classroom produces student conflict which leads to teacher stress. In this situation, the uncertainty stems from the fact that students don't really know what to do when they hear the teacher say, "Let's take a few minutes and clean the room."
And although they will sometimes make an effort to find something to do, most of them will be lost and confused. They need direction. They need a purpose. They need a specific task. Provide those simple things and the uncertainty, along with the conflict and stress, will go away.
Issue Number Three: Timing
This final thought has to do with the timing of your cleaning. If you're attempting to do it just before the students are dismissed at the end of the day, I can almost guarantee that their energy for leaving will be much greater than their energy for cleaning. You might want to give some thought to moving it up a bit so that cleaning is not the last thing you and your students do together.
So now that we're somewhat more familiar with the problems inherent in the classroom clean-up procedure, how about a solution?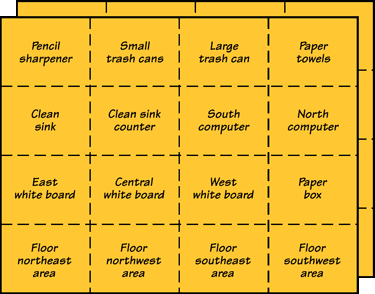 Each sheet had been folded twice both ways so that they each held sixteen tasks.

A Clean-Up Kit

My simple solution was the creation of a three-piece kit to be used during the clean-up routine.

Task Cards

I sat down one day and came up with 32 easy-to-do tasks that needed to be completed in order for the room to be returned to "normal" at the end of the day. These tasks were then written on two sheets of xerox paper.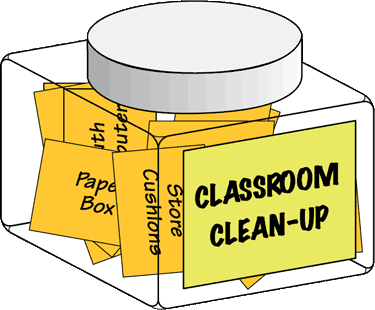 I then took these newly made blackline masters to Kinko's and had them make two copies on colored card stock. (If your school xerox machine handles construction paper, use that instead.) I cut one set of copies so that I ended up with 32 individual task cards. The other copies were saved for the display folder.

Task Card Container

I found a wide-mouth, clear plastic container for holding the task cards. I then made a little label, attached it to the side of the container with clear contact paper, and placed the cards inside.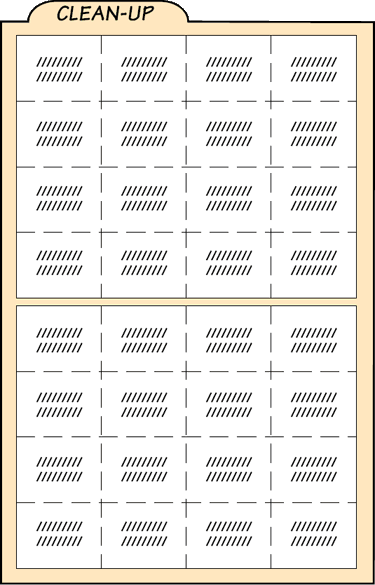 Display Folder

On the inside of a manila file folder, I glued the second set of copies of the task card sheets and then laminated the whole thing.

How It Works

Our clean-up procedure—performed every other day—takes just a few minutes. However, we start about forty minutes prior to dismissal. This allows us time after cleaning for P.E. and a brief homework study session.

First, I announce clean-up by shaking the container of cards. The sound of the cards rattling around inside the container and the visual of me giving it a good shake is a more effective signal to the students than the words that were used at the beginning of the column.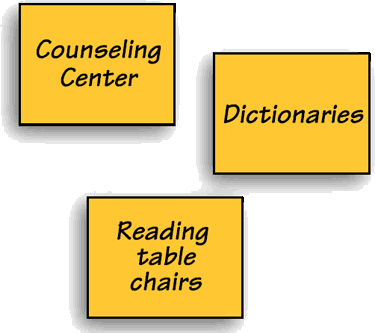 Upon hearing the sound, everyone comes to me to get a cleaning assignment. I pull task cards out of the container and begin handing them out randomly.

After receiving a task card, the student then performs the specified cleaning/organizing/resetting required. When finished, the card is placed on the proper space on the laminated Display Folder. The student then sits down and organizes his own space or asks for another task card.

Tip: Use a different color paper for copies you're making for the folder. This will help you to quickly spot the missing cards.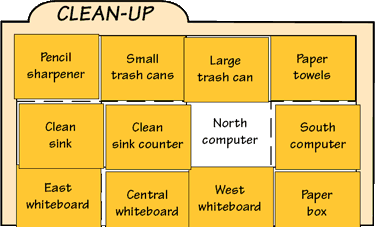 After all of the tasks have been completed—three minutes max—and all of the cards have been placed on the folder, I return the cards to the container and put away the kit. We then head outside for physical education.

What to Expect

It takes a few weeks to work out the bugs; nonetheless, your clean-up routine will begin to run smoothly before you know it. And once the procedure has become second nature, you won't believe how slick your room will look in just three minutes. It'll be a lot better than if you had spent twenty minutes doing a bit of clean-up after everyone had been dismissed.

Suggestion: As students began to learn how to complete the different cleaning assignments, I asked them to write their names on the backs of the cards. By doing this, a student receiving a card with an assignment he had never received before could look on the back of the card to find the name of someone who could describe the task details. (You can skip this suggestion if you wish. Just be prepared for a dozen students shoving their task cards at you as they each announce, "I don't know what to do.")

Bold Move: Why not get a copy of the Coasters singing "Yakkity Yak, Don't Talk Back" and play it during clean-up? (The first line of the song is: "Take out the papers and the trash!") Not only would it signal the beginning of cleaning, but the length of the song would also establish a workable time frame for finishing.

Need more info?
For a list of suggested clean-up jobs, go the newmanagement.com web site and click on the More Classroom Tips button.

Continued on next page »