This report appeared originally in the North Haven (CT) Citizen, March 19, 2009
On one day in March, staff and students at the North Haven Middle School in Connecticut raised more than $15,000 in support of children's cancer research through the St. Baldrick's Foundation. Hundreds of parents, students, and friends gathered in the gymnasium to cheer for over 70 volunteers called "shavees" who had their heads shaved for a good cause. Organizers, Anthony Giamattei, one of the school's Guidance Counselors, and Susan Wilson, a teacher of Social Studies at the school, were also subjected to the shears. Another handsome lad to lose his wavy black locks on the eve of St. Patrick's Day was the Master of Ceremonies for the event, Richard DiPalma, an Italian language teacher at the Middle School, also recognized throughout the area for his outstanding singing talent.
Among the numerous students who represented the high school, middle school, and elementary schools, Chelsea Wilson, a junior at North Branford High School, felt that the cause was too important not to get involved, and promised the long pony tail that she held in her hands to an organization known as "Locks of Love."
St. Baldrick's, which is a play on words between "St. Patrick" and "bald," provided over $15 million for childhood cancer research in 2008. The St. Baldrick's effort has coordinated hundreds of head shaving events since its inception on March 17, 2000, though the non-profit foundation was actually not established until 2004. The founders are committed to making the public aware that childhood cancer is the #1 killer of children in the U.S., with 160,000 new cases diagnosed each year throughout the world. They seek not only to save lives, but to improve the quality of life for each child who suffers in this way.
The idea behind the program came to be in 2000 when three reinsurance executives in New York City decided to change their annual St. Patrick's Day party into a means of support for children suffering from cancer. With a goal of $1000 each for 17 men gathered at Jim Brady's Pub, 20 people raised over $100,000. Last year saw 560 head shavings in the country (19 in CT) totaling over $17 million in cancer fighting dollars.
Mr. Giamattei said that he and his co-organizer expected a much smaller event when they first talked about trying the idea at the school. However, after a couple months of preparation, the evening grew to an impressive size, including jazz presentations by students and adults, a Middle School dance exposition, face painting, clowns, raffles, sales of food and merchandise, donations of head gear from the Kerchief Foundation, high flying entertainment by the North Haven High School cheerleaders, a bagpipe interlude in memory of young lives lost, blaring popular music during the waves of head shaving done by professional barbers and hairdressers, and a nationally known author and motivational speaker, Dr. Bernie Siegel.
The dynamic speaker, Dr. Siegel opened his interesting talk by encouraging everyone to let the kid inside come out more often. He urged the large crowd of children and adults to learn to love themselves. He shared several touching stories from children who had to deal with a scary time in their lives that called for critical care. His closing comments included a homework assignment. Each person was to pause four times the next day and simply laugh out loud.
For additional information: St. Baldrick's Foundation.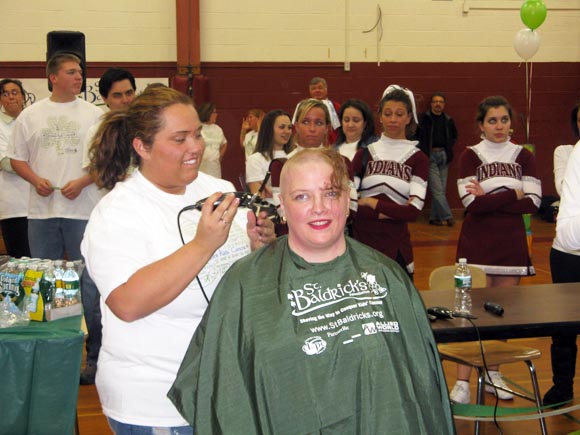 Social Studies teacher Susan Wilson, an organizer of the event,
in the process of losing her locks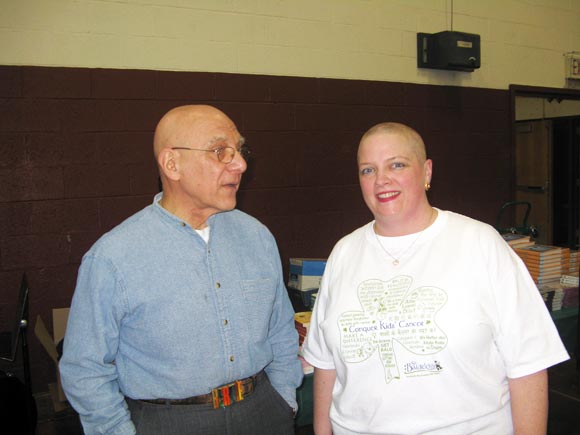 Bestselling author and motivational speaker,
Dr. Bernie Siegel and Susan Wilson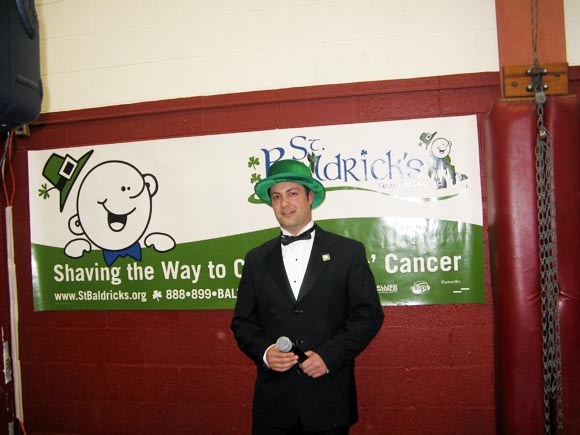 Rich DiPalma, foreign language teacher,
was the emcee for the first-ever St. Baldrick's event in North Haven.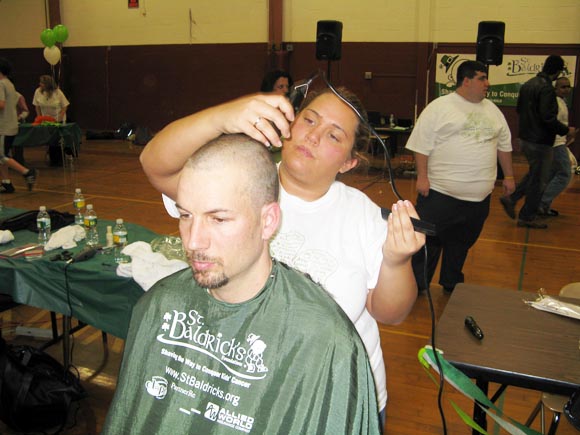 Anthony Giamettei, middle school guidance counselor and an organizer of the event,
was one of more than 70 people who parted with their hair.