Every morning Barb/MI posts an inspiring or thought-provoking quotation selected especially for educators, referred to as an "Apple Seed," on the main chatboard. The "Apple Seeds" she posted during last month are compiled here...
Be sure to use the Printable link following this list to print out an attractive poster worthy of sharing with teachers and school administrators, and to file for use as a reference tool whenever you need a great quotation!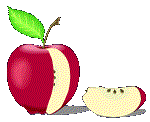 If only all the hands that reach could touch.
~ Mary A. Loberg
Know in your heart that all things are possible. We couldn't conceive of a miracle if none had ever happened.
~ Libbie Fudim
Be kind to one another.
~ Jim Henson
Somewhere someone is looking for exactly what you have to offer.
~ Louise L. Hay
Freedom is when the people can speak; democracy is when the government listens.
~ Alastair Farrugia
It's better to stand when you're on the phone. You're more apt to speed things along.
~ Randy Pausch
Feelings are everywhere. Be gentle.
~ J. Masai
When the friendly lights go out, there is a light by which the heart sees.
~ Olga Rosmanith
Not everything that counts can be counted. Not everything that can be counted counts.
~ Albert Einstein
Mother love is the fuel that enables a normal human being to do the impossible.
~ Marion C. Garretty
There are no mistakes. There are only yearnings and learnings.
~ Brooks Nelson
Life's heaviest burden is to have nothing to carry.
~ Stewart Bowers
Delegate.
~ Randy Pausch
We are always the same age inside.
~ Gertrude Stein
How simple it is to see that we can only be happy now, and that there will never be a time when it is not now.
~ Gerald Jampolsky
This nation will remain the land of the free only so long as it is the home of the brave.
~ Elmer Davis
Whatever your past has been, you have a spotless future.
~ Melanie Gustafson
Time is a very precious gift – so precious that it is only given to us moment by moment.
~ Amelia Barr
There is always one little unexpected moment in life when a door opens and lets the future in.
~ Graham Greene
Take a time out.
~ Randy Pausch
Do not wait for leaders. Do it alone, person to person.
~ Mother Teresa
What grows never grows old.
~ Noah Benshea
Every blade of grass has an angel that bends over it and whispers, "Grow! Grow!"
~ Talmud
Nobody need wait a single moment before starting to improve the world.
~ Anne Frank
These martyrs of patriotism gave their lives for an idea.
~ Schuyler Colfax
Great opportunities to help others seldom come, but small ones surround us every day.
~ Sally Koch
Time is all you have. And you may find one day that you have less than you think.
~ Randy Pausch
We never get dizzy from doing good turns.
~ George Bengis
Despite everything, I still believe that people are really good at heart.
~ Anne Frank
They fell, but o'er their glorious grave floats free the banner of the cause they died to save.
~ Minot J. Savage
The human heart, at whatever age, opens to the heart that opens in return.
~ Marie Edgeworth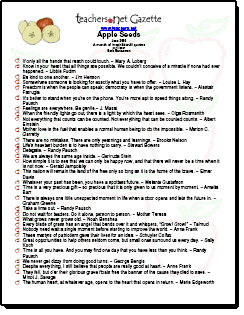 Printable "Apple Seeds" in pdf format


» More Gazette articles...