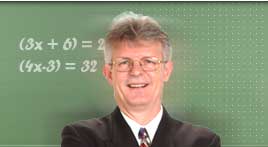 Motivational Keynote Speaker Available July/August 2008!
"How To Inspire Students To Do Their Best."
Just back from presenting to 700 educators in New Brunswick, Canada, author, educator and motivational speaker Marjan Glavac announces that he is booking appearances in the U.S. and Canada and beyond for July and August 2008, showing educators "How To Inspire Students To Do Their Best."
According to Marjan Glavac, from his keynote address, teachers and school administrators will learn:
Effective techniques to inspire students to do their best
A powerful exercise on how to develop instant trust and rapport with students
Two simple ways to win the support of parents
How to reinforce your message with the help of classroom volunteers (especially former students)
A visualization exercise that will show students (and teachers) just how powerful their minds really are (this is one exercise that surprises me every time I present it to students and teachers)
The greatest, most valuable and most useful of all success techniques in teaching today
An effective way of creating change in students
How our beliefs create success in students, by viewing a video clip that is only 31 seconds long
Here's what one teacher said about the New Brunswick presentation:"You presented very practical, inspiring information in your presentation. This would be an excellent staff PD before the start of the school year; start the year off on the right foot. It was very well done. There was nothing that I didn't enjoy." J.Gallant, New Brunswick Canada, Grade 1/2

Marjan Glavac has worked on the front lines of teaching as a full time elementary classroom teacher for 27 years. He has written 3 books and co-authored a 6-hour teleseminar. He is the recipient of numerous awards, including:
The London Chamber of Commerce Toastmasters Best Speaker for club award,
The Roberta Bondar award for Science and Technology,
The Nortel National Institute Award for Excellence in Teaching,
The Prime Minister's Award for Excellence in Technology Education and Mathematics Award,
The Roy C. Hill Award for Educational Innovation
The TVOntario Teachers' Awards Certificate of Merit for the creative use of innovative teaching methods in the classroom.
Further information: www.TheBusyEducator.com
e-mail: marjan@glavac.com

Smithsonian American Art Museum Seeks Teachers for Pilot Program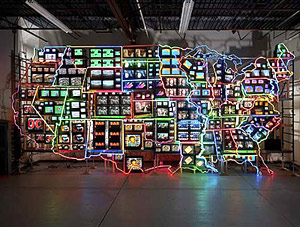 The Smithsonian American Art Museum is working to provide great resources for teachers all over the country and is looking for 4th grade teachers to pilot their latest project. See Superhighway Scholars http://americanart.si.edu/education/rs/
The project website is based on artwork in their collection that depicts the United States, and encourages students to relate their knowledge of state history in creating their own state-specific collage. The site has had a soft launch and is seeking content from classes that have studied state history this year!
It is a simple concept. An artist named Nam June Paik created a video sculpture of the United States with neon surrounding each state. The states are filled with his representation in the form of single channel videos that are played on televisions in each state. Students are asked to create their own static collage of their state making decisions about what they'd use to visually represent the place they live based on what they have learned about their home state.
Be some of the first (and the very first in your state) to try it! For additional information email Patrick Martin martinpe@si.edu.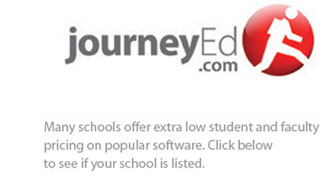 Teacher and Student Software Discounts
K-12 teachers, staff and students can save huge on popular computer software available from JourneyEd.com. JourneyEd.com, in business for 17 years, is the leading supplier of software to students and educators nationwide. Savings up to 85% off commercial retail pricing is available on thousands of software products from Microsoft, Adobe, Inspiration, Autodesk, Corel, Quark and many more
Microsoft Office Professional 2007 is available as low as $84.98 to K-12 teachers, staff and students in many states through a state-wide contract with Microsoft. To see if your state is participating, visit www.JourneyEd.com/SELECT. In addition to Office, several other Microsoft products are available at similar very low pricing.
Orders can be placed online (easiest way), or you can call us at 1.800.874.9001. Most in-stock orders ship same day order is placed and orders are shipped directly to you.
Visit our Webstore at: www.JourneyEd.com/SELECT

The Lights of El Milagro by Kevin W. Riley, Ed.D Promotes Public School Reform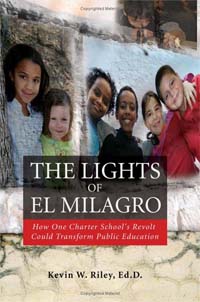 The Lights of El Milagro by Dr. Kevin Riley not only tells the story of Mueller Charter School's transformation, but it shares its template for success, which the author says enables public schools across the nation to make essential changes in their educational strategies, exemplified by Mueller's Resiliency Quadrant System.
The principal of Mueller for the past eight years, Riley took advantage of the autonomy provided through California's charter law to make what he saw as much-needed changes in a school that was once one of the lowest-achieving in San Diego County. His vision and efforts, along with those of his dedicated team, turned Mueller around so completely that it has been branded as "El Milagro"—the miracle.
Riley criticizes the public school system for its unwillingness to change despite evidence that many of the existing educational policies and practices do not work. He says that The Lights of El Milagro provides innovative alternatives that will benefit not only every school, but also every child.
The Lights of El Milagro is available for sale online at Amazon.com, BookSurge.com, and through additional wholesale and retail channels worldwide.
An educator in San Diego County for nearly 30 years, Kevin W. Riley, Ed.D, has worked in six different school districts in a variety of positions. He served as a race and human relations consultant for San Diego Unified School District and as the director for San Diego County's Juvenile Court and Community Schools. His articles in The Charter Journal and Leadership magazine have been influential in promoting change in public schools, his passion. He lives with his wife and teenage children, in San Diego, Calif.