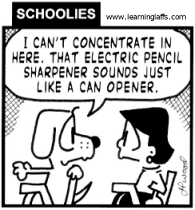 YENDOR'S TOP TEN:
More Ways To Keep Principal Off Your Back
By YENDOR
Ask for time off to run and get your yearly rabies shot
(If Male) Wear pantsuit with a tie.
Show General Hospital everyday for health class.
Stand at attention with hand over heart when principal speaks to you.
Ask him if he would like to come over one night to listen to your New Kids On The Block record collection.
Tell him his mom is a hottie.
Next day tell him his dad is a hottie.
Send letter to NEA Journal in his name asking if they would let him pose nude for the magazine. Be sure he gets a copy.
Shave off one side of your mustache.
Ride on the lawnmower with the janitor and be sure to pass his window several times. Wave with glee!
Humor from the Fine Arts/Art Education Chatboard
HILARIOUS Story-Van Gogh vs Chuck Norris
Posted by Christina
Today I was showing my second grade class pictures of famous portraits and I put one up of Vincent Van Gogh (1989 blue background, orange beard). I asked if anyone knew who the person in the portrait was and one little boy raised his hand and said so innocently..."Chuck Norris?"
LOL best moment of my art teaching career so far!!
HILARIOUS Story-Albrecht Durer
Posted by spluckygirl
I held up a self portrait that Albrecht Durer did when he was in his late twenties and probably 500 hundred years ago. He has long wavy hair, past his shoulders, in the portrait. For some reason the second and third graders just assumed it was my boyfriend???? I thought they were kidding so I burst out laughing but they were serious. Oh well. They are so cute.
Albrecht Durer & Jesus
Posted by CiciNParadise
I told my Art One kids about how adept Durer was at self-promotion and that as a result, most of the illiterate people in Europe at that time, thought only Jesus' picture would be so widely displayed. That's part of the reason many depictions of Him look quite a bit like Durer. They love that story. I got it from an Art History professor in college. Since Da Vinci Code, any little gossip or mystery I can find, I add to their lessons. At least they will always remember him.
Andy Warhol's Marilyn and Me!
Posted by Houston fine arts teacher on 5/03/08
Last year I taught at a school that was 99% Hispanic. When I showed them the Andy Warhol Marilyn Monroe pictures they were convinced they were pictures of me! Now, I wish I looked like her, but other than being blonde we really have no resemblance (unfortunately), but they were seriously convinced they were pictures of me and even another teacher came in and explained who she was and they still didn't believe her. We also discussed the timeline of when Pop Art was relevant they still continued to think they were pictures of me despite the fact that I told them I wasn't born until the late 1970s!! It was a huge compliment, but they seriously thought all blondes looked alike!
Van Gogh in Cinderella's Carriage
Posted by mirtchr
I recently held up a small print of "Starry Night" as my first graders were learning about landforms and landscapes. Asked what things they saw in the sky--my most advanced academic thinker said, "A carriage!!" It really took me back--speechless for a few moments, until I focused my child eyes. There it was: the big round pumpkin coach with swirly, curvy wheels front and center in the sky!! Sure enough, the kids had been reading Cinderella, and watching a bit of Disney as well!
Never a dull moment in the Art Room!
Posted by wadel
Oh, my goodness - I see it too, now! Wow! It never ceases to amaze me what kids can come up with! If only we would take the time to see what they see...