From the Teachers.Net Archives, a Father's Day project and poem sure to captivate any Dad.
I just did my "Donuts with Dads" breakfast yesterday since we will not be in school for Father's Day. My kids made the following and gave the gift as part of the breakfast.
I use the following poem to create a gift for Dads that they will keep for years to come. It is a poem and footprint on a 8.5x11 piece of cardstock
On the left of the page, I have an enlarged footprint graphic that is almost as large as the paper.
On top of the graphic, I have each child make a footprint using tempera paint. (Be sure to have baby wipes handy to aid in cleaning up the paint from foot and area where you are painting.)
On the right, I have the title "Father's Day 2008." Under the title, I have the following poem,
Footprints
"Walk a little slower, Daddy," said a
Child so small. "I'm following in your
Footsteps and I don't want to fall.

Sometimes your steps are very fast.
Sometimes they're hard to see.
So walk a little slower, Daddy,
For you are leading me.

Someday when I'm all grown up,
You're what I want to be;
Then I'll have a little child
Who'll want to follow me.

And I would want to lead just right
And know that I was true;
So walk a little slower, Daddy,
For I must follow you."
The author of the poem is unknown and I do not even recall the source, but I have done these for the last three years and the reaction every year is great!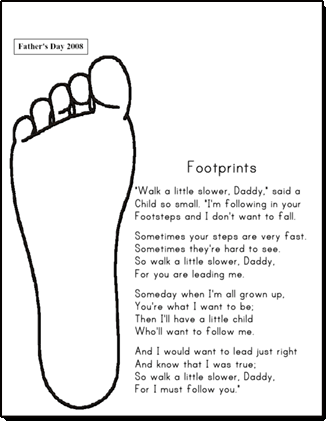 Click here for the PRINTABLE version.