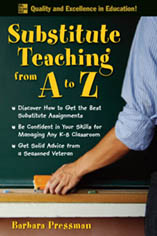 Substitute Teachers are an integral part of every school system. In support of that essential segment of the education community, Teachers.Net is happy to present…
Dear Barbara - Advice for Substitute Teachers
NEW! The author of Substitute Teaching from A to Z (McGraw-Hill, 2008) writes monthly in response to questions from Substitute Teachers.

"That's not fair!"
Dear Barbara,
Last week, I subbed in a middle school. An eighth grader, Sophia, was being very cruel to another girl in the class. I sensed that I had to step in.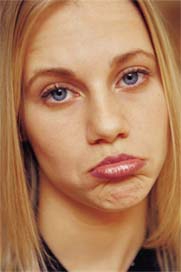 When I spoke to Sophia about her behavior, she felt that I had singled her out and picked on her. She responded with the dreaded comment "That's not fair!"

I try to be fair, but there are times when I must stop inappropriate behaviors. It doesn't seem to matter whether I focus on the entire class, or single out a certain individual, I still hear that "it's not fair."

Is there any way to be sure that I am fair at all times?

Alex in Massachusetts

Dear Alex,

The simple answer to your question is no.

All teachers hear the "not fair" comment. If the young lady in your class was cruel to a classmate, you had to intercede before the incident escalated. No student feels that she deserves a consequence for disruptive or inappropriate behavior. From the student's point of view, she did nothing wrong, and will say that she is being "picked on". Hence, any reaction by you is "unfair".

When students say, " it's not fair," they are attempting to manipulate you. Because it's your job to manage the classroom, you must stand firm and maintain order. When the need arises, state consequence with authority - without guilt or unease. If it's perceived as unfair, so be it. Your job is to keep that class safe, so that learning can take place.

One way to ensure fairness is to uncover the true cause of the disruption. Be sure you understand what happened. Never punish the whole group for the actions of just one child. Isolate the offender, give her a warning, and then follow through with your consequence. If you see two or three students seriously misbehaving, act quickly with a warning. If misbehavior continues, write a referral to remove the students. This will set the tone that you are in control. And that's a secure feeling for both the students and you!

Barbara

"May I go to the Nurse?"
Dear Barbara,
Last week, I was assigned to a first grade classroom. The students were well behaved and cooperative for most of the day. But as soon as I announced that we would be starting Math at 11:00, a steady stream of children asked to go to the nurse. It was very disruptive. It was obvious to me that this was an "avoidance" tactic. I'm not sure how to handle it.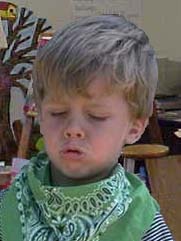 I don't want to deny a sick child a visit for medical help, yet I am almost positive some faking was going on! What should I do?

Jennifer in Florida

Dear Jennifer,

When you are subbing in the primary grades, visits to the nurse are a common occurrence as you begin a subject that presents a challenge to younger children. Math is hard for many students, and what better way to avoid the frustration and failure than going to the nurse?

Remember, the nurse is a nurturer. She shows sympathy. She gives you band aids. She listens to your complaints. She may even call Mom and let you go home early!

Experienced teachers and subs are aware of the "nurse" tactic. Rather than embarrass a child, or risk misreading a serious illness, I suggest that you tell the child that if she visits the nurse, she must be pretty sick. If she's that sick, she'll have to sit and rest during recess. She won't be able to play with her classmates, because sick children must rest as much as possible.

This response often brings on a miraculous recovery, and the visit to the nurse may be unnecessary after all!

Barbara

Editor's note: Post your most interesting stories about Substitute Teaching here.