NEW at Teachers.Net! Grant Notices Available to Inform Educators About Educational Grant Opportunities and Specialists! In addition to the Teachers.Net Grantwriting Chatboard and the Grantwriting mailring, be sure to check out the Teachers.Net Classifieds Educational Grant Opportunities and Specialists. Brand new on June 20, it will take a little time before it is loaded up with exciting grant programs and listings for grant writing specialists. But bookmark it and return often, because you'll quickly find it filling up with great opportunities. Checking these resources frequently will help ensure you don't miss out on late-breaking alerts or opportunities with short deadlines: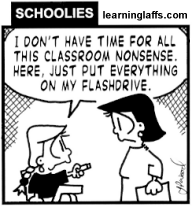 Learning Laffs Tickle Teacher Funnybones
For over ten years now, John Wood's Learning Laffs has been the preeminent humor newsletter for educators in North America. In each of its ten issues a year - from August to May - Learning Laffs provides online access to reproducible humorous essays, top ten lists, updates from Fuddle River Schools, "Schoolies," cartoons, and "Mr. Woodhead" comic strips.

Learning Laffs was started as a print publication in 1996 to bring humor to the all-important and sometimes all-too-stressful work of education. Since then, education leaders have used Learning Laffs content to bring laughter to their work and to bring attention and humor to their important communications. Learning Laffs has served the needs of superintendents, principals, staff developers, professional organizations - and national, state, and local teacher unions.

And along with the newsletter, Learning Laffs now offers CD-ROMs of reproducible content, annual newsletter collections, and merchandise. Please visit us at http://www.learninglaffs.com

Cartoonist John Wood is also a teacher of high school social studies in the Minneapolis Public Schools - who next year will be teaching geography, world studies, and economics in the new digital media program.

Wood's cartoons appear monthly in the Teachers.Net Gazette The Lighter Side of Teaching.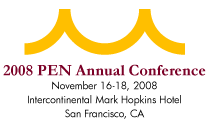 2008 PEN Annual Conference
Public Education Network (PEN) annual conference, November 16-18, 2008 in San Francisco at the Intercontinental Mark Hopkins Hotel. The conference, which will celebrate the 25th anniversary of the founding of the first local education funds, will focus on the education imperative of extending the reach of high quality learning. This exciting event will feature a number of notable speakers, including Susan Berresford, former president of the Ford Foundation.
Conference Reservation Deadline: October 31, 2008
Hotel Reservation Deadline: October 17, 2008
Location: Intercontinental Mark Hopkins Hotel
Hotel Phone: 415-392-3434
Web: http://www.ichotelsgroup.com/h/d/ic/1/en/hotel/SFOHA/welcome
Submit your proposal for concurrent sessions by July 15, 2008."
For additional information: http://www.publiceducation.org/events.asp

Free Guide from the U.S. Department of Education
The U. S. Department of Education has developed a publication, "Empowering Parents School Box: A Tool To Equip Parents For the School Year," that it is distributing free of charge. The school box contains three booklets: What Parents Need to Know, Taking a Closer Look, and Learning Checklists; a brochure: Examples of Resources; a poster: Empowered Parents Stay Involved With School; a bookmark; and a door hanger. The school box provides tips on working with children from birth to high school; guidelines for taking advantage of free tutoring opportunities; steps for selecting a high-quality school; ways to get involved in children's schools; information about financial aid and scholarships; and resources for improving learning. It also includes success stories of schools where parent involvement made a difference. http://www.ed.gov/parents/academic/involve/schoolbox/index.html
More about FREE US Dept. of Ed resources

GRANT OPPORTUNITY! American Immigration Law Foundation's Teacher Grant Program - Request for Proposals
The American Immigration Law Foundation will award grants nationwide for the 2008-2009 school year, of $100 to $500, to fund a limited number of K-12 grade level projects that provide education about immigrants and immigration. The Foundation seeks to fund activities that are innovative and supportive of AILF's mission of promoting the benefits of immigrants to our nation.
Applications are limited to educators teaching in public or private primary, intermediate, and secondary level schools. Proposals that are classroom-based will receive strong consideration, and the Foundation encourages projects that can be replicated in other classrooms across the nation. Funds for field-trips will not be granted. Grants are non-renewable. AILF is always looking for innovative and creative ideas, this year focus will be emphasized on proposals that relate to the following categories:
Innovative use of technology
Underrepresented minorities
Community outreach and partnerships with community based organizations
Math and science
The next submissions deadline is November 28, 2008. Recipients will be selected by AILF's Curriculum Advisory Board and announced in December 2008. Grants will be paid to the teacher submitting the proposal. Funds will be disbursed in July and December and participants will have one year to complete their projects. A summary lesson plan and sample materials must be submitted in hard copy and electronically to AILF by that time, and become the property of AILF, for use on the Foundation website and in print materials.
For more information, please visit http://www.ailf.org/teach/grants.shtml