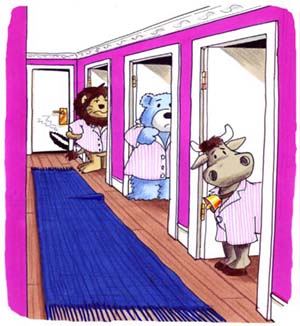 Some Rooms Are Just Right
We have stumbled upon a new children's book which, due to its simplicity, has passed undetected through the literary radar scanners, but which contains a forgotten treasure chest of knowledge that dramatically affects our daily lives.
Some Rooms uses the fantasy dreams of a small boy who follows his come-to-life stuffed animals on a fun and enlightening journey through the rooms of his own house.
It has been over 100 years since we passed on the knowledge of house building from generation to generation. We have left this skill to the "experts" and have all but forgotten the basic recipes to a very special part of our lives – the shape, size and meaning of the rooms where we live.
The meaning of the rooms of a home is not taught in schools except at higher levels to engineers and architects. We now search for this recipe in the home-improvement section of every kind of media. Most of us know more about our car and our computer than we do about our homes.
Winston Churchill once said, "We shape our buildings, thereafter they shape us!" We are affected by spaces and relative size, need of privacy, noises, artificial and natural light, colors, orientation to nature, pleasant and unpleasant smells, temperature and function, orientation and traffic, and much more. SOME ROOMS presents these concepts in a delightfully illustrated story using simplistic terms embedded into an entertaining and easy to remember rhyme. SOME ROOMS is a child's first step in the quest for a forgotten treasure.
Some Rooms has not yet found a publishing home, but maybe some one out there will take notice – we did. You can see for yourself. The book is laid out in PDF on the link below. Enjoy!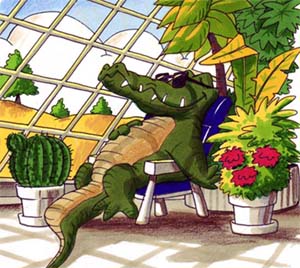 Read Some Rooms by Tim Newlin on Scribd here: www.scribd.com/doc/8004005/Some-Rooms-

NOTE:
Current and all past articles by Tim Newlin are listed and linked below.


» More Gazette articles...