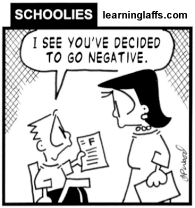 YENDOR's Top Ten
TOP TEN Books Dr. Seuss Might Have Written If He Had Been A Teacher:
And to think I saw it on the lunch line
Oh, the detentions you will serve!
The sub in the tub (mature readers)
How the principal stole the petty cash
One fish, two fish, red fish, blue fish... Where did all the freaking fish come from?
Fox in socks and other oddities of the animal world
Dr. Seuss's sleep book of faculty notes
There's a wocket in my pocket and here comes DHR!
I am not going to read any words today! (oops he did write that one! )
And the number one title Dr. Seuss might have written had he been a teacher is…
HORTON HEARS A TOOT!

The Great Underwear Caper posted by Cat

Our youngest was in preschool at the time and had a hard time adjusting to her dad not being home every day. One morning she got it in her head that she was not going to go to preschool (4 ½ years old). I had taken a shower and was trying to get dressed. I went to my drawer to get out a pair of clean underwear and found the drawer bare. I started running around the house asking the kids what they had done with my underwear. The older two knew nothing. I could tell that our youngest knew what I was talking about, but she wasn't going to talk.
After about 15 minutes of frantically searching for clean underwear, I looked behind the utility room door and found all of my clean underwear stashed there. Later, she told me that she knew that I could not go to school without any clean underwear. In her own way, I guess she was just trying to secure more time with me.

The Joys of Juicing: Pulp Fiction Posted by KimKca (from her blog)
Well, friends... After much thought and consideration, I bought a Jack LaLanne juicer. It is very fancy and very expensive. But what price for good health? Watching Elaine LaLanne shove all manner of fruits and vegetables through that chute, creating wonderful, delicious, healthy juices just inspired me. After all, Jack is older than dirt and looks damn good. He also hauled a boat across a harbor with his teeth so there must be something to this juicing business.
I went to the market this morning and bought 3 different BAGS of apples - for that uniquely blended apple flavor. Did you know you can shove the WHOLE apple through the chute? Yes! The whole thing, although it is recommended that you remove the stem.
I also bought a whole BAG of oranges, 2 cantaloupes, a whole pineapple, and blueberries. Yes, 2 boxes of blueberries at almost $4 per box because they looked so delicious and they are just chock-full of nutrients designed by Mother Nature to thwart all manner of illness. I also bought bananas but Elaine and Jack strongly stress in the little manual that one should NEVER put bananas in the juicer. It is BAD to put bananas in the juicer.
Here are my observations to date with regard to said juicer:
$4 worth of blueberries yields 2 teaspoons of juice.

One gala and one granny smith apple, stems removed, and one package of $4 blueberries creates 3/4 of a juice glass of juice. It is a purplish green color and tastes quite good.

Regardless of adherence to directions, the juicer is quite active. When the plastic "pulp collector" spins right off the juicer, which it did twice, fruit pulp flies all over the kitchen.

There are 8 parts which must be washed thoroughly when the juicer is finished creating 3/4 of a juice glass full of greenish-purple juice. All of these parts are interlocking and the remaining pulp adheres snugly.

Although dogs will eat almost anything, they will not lick up fruit pulp flung onto the floor, cabinet doors, or the refrigerator door. Any pieces that hit the dog dish will be disregarded.
I will say that my kitchen is squeaky clean after scrubbing and mopping but I am a little concerned about all this fruit in my house.
Jack and Elaine must have a maid.