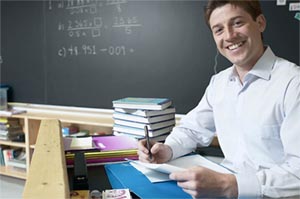 "Some say that my teaching is nonsense. Others call it lofty but impractical. But to those who have looked inside themselves, this nonsense makes perfect sense. And to those who put it into practice, this loftiness has roots that go deep." ~ Lao-Tzu

First, there is no hard and fast list that tells you who is a good teacher or who is not a good teacher. However, there are traits that excellent teachers have in common. These are not the usual qualities such as being a good friend, or having a nice personality. These are what researchers from around the world have found when they watched those teachers whose students excelled once they left that teacher's classroom.

Be unsatisfied

The first trait of a high-quality teacher is that he or she is a good learner. They are always eager to learn new things, expand their knowledge base, experiment with better ways to achieve success. They are life long learners and they produce life long learners. So, the first trait is to be unsatisfied with what is. In other words, the best teacher is always a student.

High expectations

High expectations are the second trait of outstanding teachers. I once had a principal who said that having high expectations created failure. In other words, the principal did not want to set high goals for fear of having parent complaints. In reality, setting high standards brings out the best in students and creates in them a feeling of accomplishment. They become self-reliant, learn to delay gratification, and fit more readily into adulthood where competition is inevitable. High standards are not impossible standards. Setting high expectations may require making the student uncomfortable, much like taking the training wheels off a bicycle. In other words, good teachers encourage risk taking and accept errors.

Create independency

Thirdly, highly effective educators are adept at monitoring student problems and progress. They remediate when necessary and differentiate as needed. To do this they use their time well. They are not the center of the classroom. The students are encouraged to look for help and answers on their own. They are passionate about not teaching, but facilitating learning. As such, they are promoting their own obsolescence. Just as a fine manager has a team in place that can operate well without him or her, a good teacher creates in a student a sense of self that lasts a lifetime. They promote a deeper understanding of concepts and work habits than just what the curriculum suggests. In other words, they create independency.

Knowledgeable

Fourth, they possess a deep knowledge of the subject matter and are able to manipulate, simplify, and individualize this data more easily because they are a master of it. To gain this they are not just hard workers, but have a passion for the subject. They are able to empathize with students who might not like that subject and turn that lack of enthusiasm around by presenting the facts from a different angle. In other words, their bumper sticker reads, "This teacher stops for new ideas."

Humor

Fifth, first-class teachers have a good sense of humor. They make jokes and accept jokes. They are not comedians, but they are entertaining. They tell stories, point out silly things, bring joy to difficult situations, and are not afraid of laughter. They use humor to connect to their students. In other words, excellent teachers keep the students' attention without fear.

Article continued on next page




About Alan Haskvitz...



Alan Haskvitz teaches at Suzanne Middle School in Walnut, Calif., and makes staff development presentations nationwide. In addition, he serves as an audio-visual evaluator and design consultant for his county department of education; a tutor to multi-cultural students in English and art; and an Internet consultant.
Haskvitz's career spans more than 20 years. He has taught every grade level and core subject, has been recognized repeatedly for innovative teaching and has received the following honors, among many:
USA Today All Star Teacher
100 Most Influential Educators
Reader's Digest Hero in Education
Learning Magazine's Professional Best
National Middle Level Teacher of the Year
National Exemplary Teacher
Christa McAuliffe National Award
Robert Cherry International Award for Great Teachers
In addition, Haskvitz publishes articles on successful educational practices and speaks at conferences. He has served on seven national committees and boards.

Haskvitz maintains credentials and training in special and gifted education, history, administration, bilingual education, journalism, English, social studies, art, business, computers, museumology and Asian studies. He holds these credentials for Canada, New York and California. His experience also includes staff development, gifted curriculum design, administration, community relations and motivation. His background includes 10 years of university education.

As a teacher, Haskvitz's curriculum increased CAP/CLAS test scores from the 22nd percentile to the 94th percentile, the largest gain in California history. In addition, Haskvitz and his students work continuously to improve their school and community. His students' work is often selected for awards in competitions in several subject areas. For more details about Alan and his students' work, visit his page on the Educational Cyber Playground.

Haskvitz works tirelessly to improve and advance his profession, which is why he developed Reach Every Child. http://www.reacheverychild.com/



Alan Haskvitz Articles on Teachers.Net...


Related Resources & Discussions on Teachers.Net...