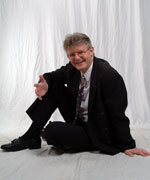 Marjan Glavac (BA, BEd, MA) is a professional speaker, teacher and author. He is a full time classroom teacher with 25 years teaching experience. He has taught and continues to teach students from the inner city, students with emotional/behavioral disorders, ESL, and IEP students. He is an international speaker and workshop presenter.
Marjan is the author of 3 books: The Busy Educator's Guide To The World Wide Web 1st Edition, and 2nd Edition, and How To Make A Difference: Inspiring Students To Do Their Best, the creator of one of the Internet's longest running free teacher monthly newsletters: The Busy Educator's Newsletter (1998) and co-author of "How To Thrive And Survive In Your Classroom".
Since 1993, Marjan has been involved in dozens of telecommunications projects involving students from K-University on every continent of the world. His K-8 students have also participated in e-mail, travel buddy, research projects and polishing mirrors for the NASA Starshine project. He and his classes have been filmed by TVO and Global's Kids-TV; featured in all local media - newspapers, TV, radio, as well as nationally in Reader's Digest, Toronto Star, Globe & Mail, Today's Parent, Home and Educational Computing and internationally on WGN and NPR radio, websites and dozens of student newspapers worldwide.
Marjan is currently a gr.6 home room teacher at Wilfrid Jury Public School in London, Ontario, Canada where he resides with his wife and two children. For more information about Marjan Glavac, his books, keynotes, training and seminars, visit him at his site at http://www.thebusyeducator.com