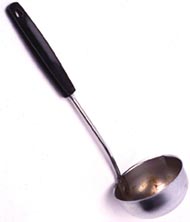 Black Bean Pumpkin Soup recipe
Posted by Sp.
Cut up an onion and sauté it in a bit of olive oil. Add two cans of black beans, two cans of pumpkin (like what you use to make pumpkin pie), one can of diced tomatoes with chipotle. Add cumin and garlic and a good bit of cilantro. Add a bit of water, maybe one or two cans. Cook until the onions and tomatoes are nice and soft.
Take a hand blender and blend it until it is chunky-smooth (some chunks but mostly pureed).
Add salt to taste.
You can use jalapenos and regular tomatoes instead of the diced tomato with chipotle. This recipe can be changed all over the place and it is still good.
This recipe takes about fifteen minutes to make. You could half it if you don't have a lot of people in your family, but it makes a good lunch soup for the next day.
Carrot Ginger Soup
Posted by Sp.
This was easy and I loved it.
I took about a tablespoon of butter and melted it in a large saucepan, sautéed a chopped onion in it (big chunks). I took an entire bag of carrots plus three carrots and chopped them in half inch pieces and added these to the pot, put in enough water to just cover the carrots, broke up a stalk of celery and added that. Cooked this until the carrots were tender. I added about 1 1/2 teaspoons of ginger to this, then used a hand blender to blend this up, leaving it with some texture, then I added salt to taste.
This came out so thick it was almost like a puree, but it was delicious and I loved the fact that I didn't even have to peel the carrots.
Next page:
Waldorf Salad
and
Danish Banana Bread Muffins