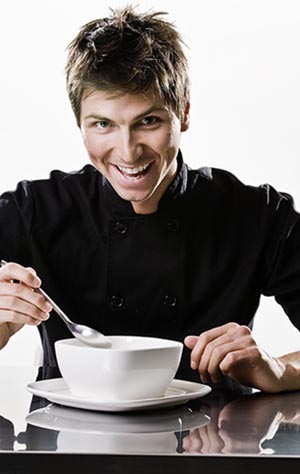 Mother Magoo's Yummy Homemade Hamburger Veggie Soup
Posted by Magoo on the Teachers Chatboard, with variations by other T-Netter cooks!
This is so easy it's nearly sinful.
Cook it in a big pot--I use one that holds 5 or 5 1/2 qts. You can ladle it into freezer containers for use all winter.
2 lbs. or so of hamburger. I get the really good stuff, very lean.
Brown this in skillet, drain, set aside. (I usually dump some oregano in it while it's browning.)
1 reg. size can green beans (for these, get the good ones,
1 reg. size can corn not store brands, and drain)
1 small can peas

(Don't get store brands for the canned veggies, get the good ones--Green Giant or DelMonte or whatever. And you do drain these. Sometimes I hold on to the liquid in case I want to use it to make the soup soupier instead of using more tomato juice.)

1 large can tomato JUICE (that really big honker that takes 2 hands to hold. (Or use V-8 for spicier taste )
1-2 reg. size cans diced tomatoes (depends on how much you want--don't drain this)
A couple of stalks of celery, cut up small

These next two items I steam while building the rest of the soup, and then put them in:

Several fresh carrots, cut up small
Several red spuds, cut up small
Put everything into the big pot, on lowest heat, with a lid on it, and simmer for awhile...maybe 40 min. You mostly just want to get things heated up.
Now, if you like your soup really soupy, add more tomato juice till you get it the way you want it.
We have this for lunch or supper, with some sourdough bread and fruit, sometimes a small green salad. We don't get tired of it till about March and then about this time of year we want it again. :) I end up making several pots over the winter.
Hubs hates peas so I only use the small can of them and he picks them out before dining and puts them back in the pot! I don't think I've ever made this the same way twice...you kind of have to go with what you like.
Hope this works for you!
Discussion about Magoo's Soup...

Posted by wig
What I love about this soup is its versatility. Sometimes I will throw in a can of Campbell's Tomato Soup to add a little creaminess. French Onion Soup along with the Tomato juice also makes for a nice flavor. If you are really in a hurry, a bag of frozen mixed vegetable works great.

Posted by jennyi
I used to make this all the time, and LOVED it. Like you, I just made it up as I went along. I would put the carrot slices right in the soup and let them cook then. Sometimes I'd use tomato paste. DH had to add to it and would sometimes put a little thickening in it before serving, plus at times he would add pasta. I liked it best without pasta or thickening myself.

Posted by Paulie
Yum! I hate canned peas also but I love frozen peas. When the soup is done, I would add up to a couple cups of frozen peas and they will "cook" from the hot soup surrounding them.

Posted by Tizzy
Magoo, sounds as if we make the same soup. I do add a tablespoon of Worcestershire sauce... and sometimes a handful of barley.
Next page:
Black Bean Pumpkin Soup
and
Carrot Ginger Soup