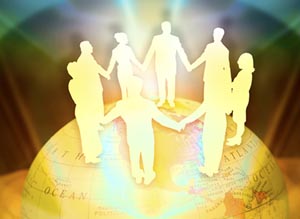 The character trait for February is;
COOPERATION.
Respect for diversity
Teamwork within home, school, and community
February 1:
Sir Edward Coke was born in 1552. He wrote down and organized English common law, which is also the basis of American law. He once said, "Success in crime always invites to worse deeds." What do you think he meant by that?
Today is National Freedom Day. Think of the kinds of freedom you have, and the price people have paid to give these freedoms to you. In your opinion, which kind of freedom is the most important for people your age? Why that one?
Happy birthday, United States Supreme Court. It first met in New York in 1790. What are three qualities a good judge or Supreme Court justice must have? Why those qualities?
February 2:
George S. Halas, the founder of the Chicago Bears football team, was born in 1895. He was the co-founder of the NFL. This Sunday is the Super Bowl, when the championship of the NFL is decided. What are you or others you know doing during the game? What kind of things do people you know do to root for their favorite team?
In 1876, the National Baseball League was formed. It is the oldest professional sports league in the United States. Baseball is no longer the most popular American professional sport. Why do you think other sports have become more popular? Think of three or more reasons.
William Shakespeare's twins, Hamnet and Judith, were baptized in 1585. (Births were not recorded at that time, only baptisms.) If you were a twin, would you prefer to have a twin who was the same sex as you, or one who was not? Give reasons for your opinion. (If you are a twin, what is the main advantage, and the main disadvantage, of being one?)
February 3:
In 1889, the famous female outlaw and bank robber Belle Starr was killed by being shot in the back. Despite Belle, most crimes are committed by men, not women. Why do you think this is so?
In 1690, the colony of Massachusetts Bay issues the first paper money ever issued in what is now the United States. Suppose the United States decided to put new pictures on some of its paper money. What famous American whose picture is NOT now on money most deserves to have a picture on it? Defend your choice.
February is a short month. Some people have suggested that a day be taken from two of the 31-day months and added to February to make the calendar more regular. Do you agree? Why or why not?
February 4:
Today is Setsubun (Bean Throwing Day) in Japan. To drive out evil spirits and prepare for spring, roasted beans are scattered around the house, temple, or shrine. While you scatter them, you chant, "Devils out, happiness in!" Then you collect one bean for every year of your age and eat it. So beans are good luck food in Japan. What is your good-luck food? Why do you think of that food as bringing good luck?
Clyde W. Tombaugh was born in 1906. He discovered the planet Pluto in 1930. He named it for the Roman god of the underworld, since all the other planets are named for Roman gods. Suppose the world's astronomers decided to give all the planets new names. What plan would you suggest they use for the new names?
Louis Braille was born in 1809. He invented the Braille system, which allows blind people to read an alphabet of patterns of raised dots on the paper with their fingertips. Which do you think would be harder to adjust to: becoming blind or going deaf? Why do you think so?
February 5:
Adlai Stevenson was born in 1900. He ran for President twice and served in many important positions. He once said, "All progress has resulted from people who took unpopular positions." Can you think of anything that was unpopular once, but is accepted by almost everyone today? What do you think caused the change?
Late January and early February often have the coldest weather of the year. What are some ways students could work together for people who need help in cold weather, like the homeless or people with little money?
During this week, in most places, bear cubs are born while their mothers are hibernating. People sometimes try to make pets of wild animal babies, like bear cubs, but it seldom works out when the animal grows up. Why do you think this is so?
February 6:
In 2000, Idaho potato farmers faced a huge surplus of unsold potatoes. Rather than have them ground up and burned, they gave 24 million pounds of potatoes to food banks all over the United States. What are some things students might do to help hungry people in their community, or elsewhere?
In 1659, the first check on a bank account was written and accepted in Britain. What are the advantages and disadvantages of using checks to pay for things.
Former President Ronald Reagan was born in 1911. He is the oldest person ever to serve as President of the U.S. The Constitution says that only people over 35 years old may be President. Do you think this restriction is a good one? Why or why not?
February 7:
Laura Ingalls Wilder, author of the Little House books, was born in 1867. The stories she told were based on her own life. By the time she reached middle age, the life she had lived as a child seemed strange and unusual to most people younger that she was. What are three things you experience today that you think your children may not experience, and think of as strange?
In 1914, comic actor Charlie Chaplin introduced his Little Tramp character. He became so popular that he became the first real movie star. Chaplin once said, "A day without laughter is a day wasted." What do you think he meant by that?
In 1984, astronaut Bruce McCandless became the first human being to make a space walk without using a safety tether to attach him to his spaceship. Instead he used a rocket pack that he designed himself to move around and return to the ship. If the rocket pack had not worked, he would have never been able to return to his spaceship and would have died in space. Suppose you were asked to test a new and untried idea someone else had. Would you be willing to do it? Why or why not?
Charles Dickens, author of A Christmas Carol, was born in 1812. Although Scrooge in this story was a rich man, he was not only unwilling to share with others (in the beginning), he lived a very poor life himself. Why do you think a rich person would choose to live like a poor one?
Article continued on next page