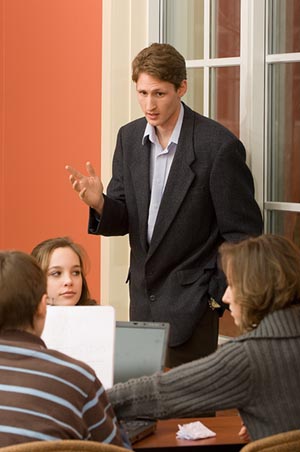 "Honey?"

"Hmmm?"

"How many of your bosses, over the years, would you say were good leaders?"

My wife looked up from the home plan magazine she was perusing, one of her favorite pastimes. We sat in the coffee corner of one of the large mega bookstores. It is one of our favorite "dates" together.

"What do you mean?"

"I mean that, while many places are successful, and many bosses gain credit from that success, how many were actually good leaders?"

We are both in our fifties now and have worked in many different places and gone to a lot of diverse schools and training. She is a nurse and I am a teacher.

She started naming teachers.

"Wait a second, I asked about bosses." Why was she naming teachers?

Think about it. An entire genre of books, classes, seminars, and consulting firms allege to teach you how to be a good leader. Another entire genre alleges to teach you how to be an effective teacher. Is there any crossover? We sat and talked about it. How to define a good leader? How to define a good teacher? Does a good leader also teach? Does a good teacher also lead?

One of the first things we came to agree upon is that in many cases, success of an organization is not always dependent on the person in charge. Professionals tend to do their jobs well regardless of the leadership qualities (or lack thereof) of the boss. And a K-12 classroom is not exactly a group of professionals united by a common field of endeavor. The more we talked about it the more we cemented the idea that leadership is a primary and essential attribute of an effective teacher. And while I can find many sources about "Classroom Management" I find fewer about "Classroom Leadership."

I spent almost three decades in military service, retiring as a Chief Warrant Officer. Now I teach Naval Science for an NJROTC program. Is it my own personal background which leans towards a "leadership" definition of teaching? Perhaps. Yet I do not teach as I taught in military training courses. I teach history and science as well as other subjects. Clearly, a military training class differs from a public school class.

Diversity in teaching styles seems proportional to diversity in learning styles.

Many educators cringe when you mention the application of "military" values in school. Nevertheless, if, in this case, if we define Leadership as: Influencing people to do something they would not normally want to do (which is not a be-all end-all definition of course) then maybe we have a working model for education. How many of our students really like doing their work? Yes, there are some places where this has been accomplished. However, I am writing for those of us in schools at which "self-starter" is not a phrase often applied to a student.

Leading a classroom requires only a subtle paradigm shift in the mind of a teacher.

Now, if you are a successful teacher, do not take my advice. My father always said, "There is more than one way to skin a cat," (always turning out badly for the cat though). Diversity in teaching styles seems proportional to diversity in learning styles.

But if you're one of the many looking for something, anything, to help you succeed with your students, I give you now a life ring to grasp. This can work.

Of course, neither I nor anyone else would suggest a military style training environment in public schools. Do not go "drill sergeant." But there are some tools we can take from any successful leader or effective organization.

Lead, don't push. There is a reason the U.S. Army's motto is "Follow Me" and not "Go in there and get 'em." People (even students) respect the first one to dive in the cold water. "We are going to read this book together" is usually better than "Read this book." "Lets look that up now" is better than "look that up and find out."

There is a reason the U.S. Army's motto is "Follow Me" and not "Go in there and get 'em."

Build class teams. A class is a working group, regardless of the diversity. Always find ways to work as a group, or in small groups. Rotate a position of Student Class Leader among the students; allowing the leader to help set things up, call roll, and any other thing you can think of within their abilities. Rotating is very important. You do not want to set up class favorites. Coach them, help them, and back them up when they are in the hot-spot.

Build the right relationships. I remember a lot of my teachers still. But I could not tell you a single personal fact about any of them, good teachers or bad. This is a sore spot for some teachers trying to build relationships with their students. We must remember that these are working relationships and not personal relationships. Think about it. Do you respect a boss who is constantly "baring his/her soul" to the workers? Do we, as workers, respect that in a boss? There is a fine line here which every teacher in every situation has to find. It cannot be quantified. The professional, however, keeps relationships professional. Students would rather you remember their birthday than be telling them about your son or daughter having a birthday party.

Lead by example. If you keep in mind that you want students to succeed in life, you will think about being the kind of person you want them to emulate. Everything from how you dress to how you speak is absorbed by students.

Praise in public and punish in private. And make sure you praise more than criticize. Negatives should be one-on-one and not in front of the class. Positives should be immediate, open, and tangible. This can be tougher than it seems. We all know you can't stop a class every time you need to correct a student. Also, with all of the talk about positive reinforcement, one must be very carful to never praise or reward poor behavior or performance. There is a difference between self-esteem and self-confidence. Do not build one at the expense of the other.

I could go on of course. Teachers all want to go on. We love to share our ideas and thoughts or we would not be teachers. There are still many unanswered questions. But for now, this is what I want to leave you with. If you are struggling with your classroom management, think about some of this. Adjust to your own style. Adjust to your environment. Your answers, upon reflection, may be better than mine. If this short treatise causes you to have more questions than answers, that is a good thing. But if you can simply adjust to thinking of yourself as a leader as well as a teacher, improvement will follow.