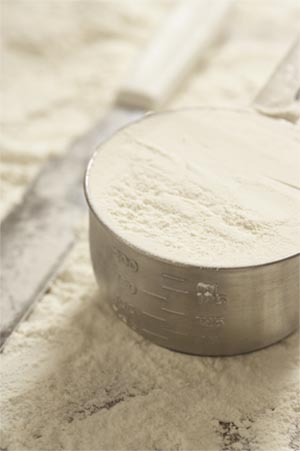 Creamy White Chicken Chili
Posted by Vir Ü
4 large chicken breasts, cooked and chopped
2 cans cream of chicken soup
2 cans chicken broth (low sodium)
1 large onion, chopped
3 cans Great Northern beans with juice
1 can whole kernel corn, drained
1 pkg. taco seasoning mix
1 pkg. Ranch dressing mix
¼ c. butter
Boil onion in broth until tender.
Add cream of chicken soup; stir until well-blended.
Add other ingredients.
Simmer 15-20 minutes.
I add variations to this such as pintos.
I also use less ranch dressing since it is so salty.
Georgia Cornbread
Posted by Vir Ü
1 cup sugar
1 cup brown sugar
4 eggs, beaten
1 cup vegetable oil
1 1/2 cups self-rising flour * (see below for instructions for making your own self-rising flour)
1 teaspoon vanilla extract
2 cups pecans, chopped very fine
Instructions
Preheat oven to 350 degrees.
Lightly grease and flour a 9-by-13-inch baking dish.

Stir together sugar, brown sugar, eggs and oil in a medium bowl until smooth.
Stir in flour and vanilla.
Add pecans and stir until evenly mixed.
Spoon into prepared pan and bake for 30 to 35 minutes.
Make your own self-rising flour

For 1 cup self-rising flour use:

1 cup all-purpose flour
1 1/4 teaspoon baking powder
a pinch of salt.

Chocolate Gravy Recipe (served over biscuits)
Posted by Jack/AR

Mom's Chocolate Gravy

2 heaping TBS all-purpose flour
1 cup sugar
4 TBS cocoa
2 cups milk
1 tsp vanilla
1 stick butter or margarine

Combine dry ingredients. In a large saucepan whisk in the milk. Mix well and heat slowly over a medium heat..stirring frequently as it will scorch easily. When thickened, add vanilla and butter. Stir. Serve over biscuits. Makes about 2 cups!

Grandpa Goff's Polenta
Posted by Jack/AR

This recipe doesn't sound like any polenta recipe I have ever seen but I grew up on this stuff!

Grandpa Goff's Polenta

1 Rabbit, Squirrel or Chicken (or pieces equal to one chicken)
1 or 2 onions, sliced
1 green pepper
2 cans tomatoes
1 can water
Salt and pepper to taste
Cornbread (or a Jiffy Cornbread mixed and ready)

Roll your rabbit, squirrel or chicken in a plate of flour, salt and pepper. Coat evenly. Fry in a large cast-iron skillet until browned. Remove from skillet and set aside.

Slice onion and pepper and cook until transparent. Add the chicken back on top of the onions and peppers. Cover with tomatoes and water and cover the pan. Let it simmer until it has thickened.

Serve over hot cornbread.

(I have made this for my family and cooked the cornbread on top of the skillet in the oven until the cornbread is done instead of letting it simmer on top of the stove.)

I never knew I was eating rabbit or squirrel when I was a kid! I thought we had some puny chickens!
Jack/AR

Dad's Skillet
Posted by Jack/AR

My dad always had a gigantic garden. He fed us with it and most of the widowed women in my hometown in the 1960s!

This was his specialty when the garden started producing!

Jack's Skillet

2 or 3 green tomatoes (sliced)
1 zucchini (sliced)
1 yellow squash (sliced)
1 cup okra (sliced)
1 jalapeno (sliced)
1 onion (sliced)

In a gallon Zip Lock bag, paper sack or bag, put 1/2 cornmeal, salt and pepper.

Add vegetables and shake it to coat well. Put enough oil in a large skillet to cover the bottom. Add vegetables to the hot skillet, turn heat down to medium and fry until done.

Turn it often until it is done so as not to burn.
Jack/AR