Thanks to the creativity and generosity of the Teachers.Net community, we offer the following printables for educators to use with their students. Just click and print!

You will need Adobe Acrobat Reader in order to open and print these files. You can download it FREE
at Adobe Acrobat Reader - Download

Latest contributions to Teachers.Net Printables

Be sure to bookmark this page and check back often to see what's new in Printables!

Dr. Seuss inspired bulletin board idea Color Poem
by Felicia Barra – gr. 1
I read to my class Dr. Seuss's My Many Colored Days. We then do a writing activity based on colors.
Here's an example:
Color Poem
White, white, hello, white!
Welcome to a nice fluffy cloud.
White, white let's applaud for white.
A sheep's warm coat.
A winter blizzard.
Yeah! Let's hear it for white.
I have an outline for the students to use. Click below for the printable template.
I like doing this because the bulletin board can stay up for awhile.
Color Poem with printed prompts under the blanks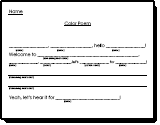 Color Poem without printed prompts under the blanks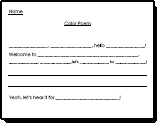 Snowman Poem
Tim Newlin beautifully illustrated a poem passed on to him by Kathleen Carpenter. The results are shared below. Snowman Poem both colored and blackline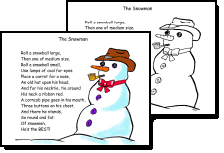 February 2009 & March 2009 Calendar

Click here for All Teachers.Net Printables

TERMS OF USE: Printables offered here are for use by individual teachers. They may be shared with colleagues provided all identifying information as it appears on the original printout remains on all copies. Teachers.Net printables may not be copied or published online or in print publications, except by the original contributor of the material, or with permission by the author or Teachers.Net. We welcome links back to individual printables or to this page. Links titles should include "Teachers.Net."