Planning Dr. Seuss, Read Across America, 100th Day Projects? You need the
Teachers.Net Project Center!
The Teachers.Net Classroom Project Center is a collection of chatboard resources for teachers who develop projects for the classroom. A baker's dozen of specialized project forums, plus a fast-moving general switchboard for teachers looking to implement unique or non-traditional projects, we're shining the spotlight on three you'll want to pay special attention to during this month.
Read Across America
The popular Read Across America program was developed by the NEA to celebrate Dr. Seuss's birthday, and help encourage students to read, read, and read some more. Take part of this national movement, check out this chatboard and mark on your calendar Dr. Seuss's Birthday, March 2!
100 Days
Celebrate the 100 Days of School, a special day that really counts in the life of every school year! Already celebrated your 100th day? It's never too early to start gathering ideas for next year!
Arts & Crafts
If you are involved in arts and crafts project in your job, this is the number one chatboard for you. Find great ideas for craft projects, share your experiences and secrets, or just chat with others who also work in Arts & Crafts.
Don't forget to sign up for the Teachers.Net Read Across America and 100 Days mailrings, along with any of the other 140-plus email groups available here at Teachers.Net!

NEW BOOK! Stuttering Stan Takes a Stand


By Artie Knapp

Stuttering Stan Takes a Stand is published by the Division of Speech Pathology at Cincinnati Children's Hospital Medical Center, the largest pediatric speech pathology program in the United States. www.cincinnatichildrens.org/speech

Illustrated by Barbara Gibson (illustrator of The Kissing Hand)
Published by Cincinnati Children's Hospital (Dec. 2008)
32 pages, for children ages 6 - 10

Author Artie Knapp talks about Stuttering Stan with Speechpathology.com.

Click here to order Stuttering Stan Takes a Stand from Amazon.com; also available at other major outlets.

Editorial Reviews:

Mr. Knapp writes a wonderful tale of friendship, building self-esteem and the understanding of others with disabilities. This children's book is about a squirrel who stutters and how his disability affects his life and those around him. Stuttering Stan learns that friendship, understanding and self-respect are important for everyone. This book should be read by all children and adults alike to reaffirm those important life lessons that Stan's story brings to the forefront.

Tammy Flores, Executive Director
The National Stuttering Association
www.nsastutter.org

Artie Knapp's knack for identifying the things that worry children shines in Stuttering Stan Takes a Stand. His characters, displayed in especially lovely illustrations, and their interactions, are those young children will recognize from their experiences on playgrounds and in their classrooms. Embedded in this appealing story are important messages about human kindness and acceptance of challenges. This is a book I will be recommending to educators everywhere.
Kathleen Carpenter, Editor
Teachers.Net Gazette

Free, Online SAT Prep Site – INeedAPencil.com
By Jason Shah
INeedAPencil.com is a free website that provides students with innovative online SAT prep through informative lessons and challenging practice questions. The site allows students to create accounts, learn SAT material from algebra to inferring ideas in reading passages, answer hundreds of SAT test questions, customize practice sessions based on strengths and weaknesses, and even see what their projected SAT score is based on how the students perform on INeedAPencil.com. Additionally, students can add parents and teachers as 'mentors' who receive progress reports via email. Harvard undergrad Jason Shah launched the site two years ago out of a frustration with expensive test prep programs that often returned poor results for many of his high school friends. To date it has helped over 18,000 students get into college with frequent scores increases exceeding 200 cumulative points. Shah provides teachers and after school programs with additional materials like progress booklets and a guide to completing the prep program to facilitate use and promotion of the program. Please email Jason at JasonShah@INeedAPencil.com to learn more and get resources to set your students up on INeedAPencil.com.

Here's something that used up too much of my time today. Fascinating photos and information; surely of interest to everyone here, for your elementary – secondary students, too.
National Portrait Gallery Focus on Lincoln
Lose yourself in the fascinating displays and audio features about our 16th president!
Audio features – very interesting! www.npg.si.edu/exhibit/lincoln/audio.html

Topics:

The masks of Lincoln
Why did Lincoln grow a beard?
Why is this portrait cracked?
How does this photograph foreshadow Lincoln's death?
In what way did Lincoln try to manage the explosiveness of the Emancipation Proclamation?

Lincoln portraits (photographs, lithographs). Click each to enlarge.
www.npg.si.edu/exhibit/lincoln/rise_of_lincoln.html

Download Lesson plans related to the topics covered in the audio bits
www.npg.si.edu/exhibit/lincoln/lesson_plans.html
There's more: Lincoln's contemporaries, the Civil War, more, linked on each page shown above.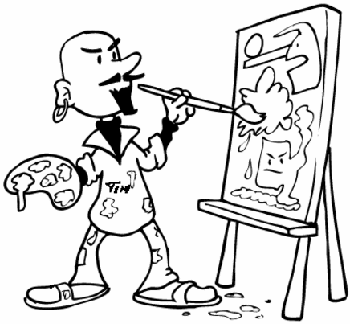 You Can Draw!
TimTim.com

Tim Newlin of TimTim.com has expanded his site of drawings! We've mentioned before his huge collection of downloadable drawings and calendars (free for non-commercial use). Now you can add YOUR drawings to the database to be shared with people all over the world. It's simple. Just register, then upload your drawings where they'll receive global exposure. Not ready to share? Then browse the growing collection of drawings others have posted. Check it out, and see what Tim's poll question is this week. www.timtim.com