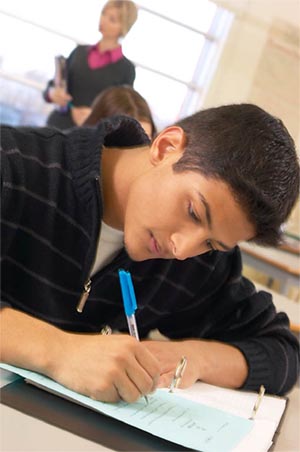 Using Markers and Private Offices
If the test format is visually confusing, have children use tagboard markers to underline questions. Create private offices by taping two file folders together to make "study carrels" for students to use on desktops. You can also make private offices from three sides of cardboard boxes. Many children can concentrate better when they have study carrels on their desks.
Getting Ready for Tests
Focusing on test-taking skills just prior to taking tests creates anxiety for many children. Instead, make test-taking skills part of your instructional program all through the year. Hold class discussions about tests. Make charts about test-taking as shown below. Include this information in your newsletters to parents. Talk about ways people can prepare themselves so they can do their best on tests. You can reread the charts and hold discussions prior to testing.
Getting Ready for Tests
Get a good night's sleep.
Eat breakfast.
Come to school on time.
Listen carefully to the directions.
Read directions and questions carefully.
Remember no one knows every answer.
Tests do not tell how smart you are.
Tests are important—how much you learn is more important.
How to Take Tests
Have two sharp pencils and an eraser.
Read directions and follow them. Underline key words in the directions.
Read the question and all the answers before you pick one.
Underline key words in the questions.
If you feel nervous, take a slow, deep breath.
Don't get stuck—keep going! If you don't know an answer, skip it.
Do as many questions as you can. Then, go back and try to do the questions you skipped. Pick answers that make the most sense.
If you have extra time, check over your answers.
After tests, give children opportunities to share their feelings. Children can share which test-taking strategies they employed during the tests. They can talk about what was easy and most difficult about the tests. Children are reassured when they learn that others encountered difficulty with some parts of the tests.
Keeping Track of Skills Instruction
Every teacher has used complicated flow charts and time-consuming skills checklists. Teachers have long lists of reading, writing and math skills they must teach. I like to keep track of which skills I've introduced and reinforced. Through trial and error, Barbara Gruber and I came up with a "Skills-check System" that was simple to create and easy to use. We made "Skills-check System" clipboards for reading, writing and math skills. Try our Skills-check System to see if helps you keep track of which skills you have introduced and reinforced. For example, to keep track of writing skills, label a clipboard "Writing Skills" and place lined paper under the clip. List all the writing skills you are required to teach at your grade level in a column on the left side of the paper. Write "Skills to Teach" at the top of this column. Then, create a second column labeled "Introduced." This narrow column just needs to be wide enough to make checkmarks. Then, make an additional wider column labeled "Reinforced." Before making any marks on your Skills-check System, photocopy it so you have a master copy to reproduce for next year. Then, you won't have to start over and rewrite the entire list of writing skills. You'll have a ready-to-reproduce skills list to reuse.
Keep your Skills-check System clipboards handy. At a glance, you can see the list of skills you need to cover. When you introduce a skill, make a check mark in the "Introduced" column. Every time you provide practice and reinforcement on this skill, make a check mark in the "Reinforced" columns.
At a glance, you'll see which skills you still need to teach and which skills you need to reinforce. Instead of checkmarks, some teachers prefer to write dates in the columns. The Skills-check System is especially helpful if you are team teaching because it gives instant information about skills that have and have not been introduced. Invest a few minutes every Friday afternoon and update your skills lists before you head out of school for the weekend.
As teachers, we want children to experience the joy and wonder of learning, not anxiety about testing. Test-taking skills are tools children can use to boost their success when taking tests. Start teaching these skills to your students tomorrow so they are prepared and confident when taking tests later this school year.
Sue Gruber
Barbara Gruber Online Courses for Teachers
www.bgrubercourses.com

Copyright 2009: Barbara Gruber Courses for Teachers