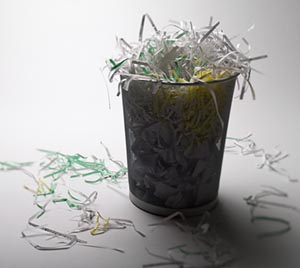 When money is tight in school systems, art is frequently the first subject that suffers budget cuts, so teachers often resort to using trash or solid waste as a source of art materials. After all, it's free and easy to come by.

Working within a "bare bones budget" and reusing materials isn't necessarily bad. Besides helping to save the environment and money, creating art from solid waste requires kids to think in new ways, and making something out of nothing is fun and challenging.

In addition to reusing household trash such as newspapers, magazines, and junk mail to make art and crafts, there are many community sources of clean, solid waste. You can gather lots of interesting, useable items by spending an afternoon going from one business to another collecting scrap materials.

Phone ahead or write a short letter explaining your purpose in wanting to use solid waste to make art. Mention that reusing scrap materials helps you save money, and it keeps solid waste out of the landfill. Usually, employees and business owners are happy to give customers surplus or pre-consumer waste materials free of charge.

Some of the places you might visit include the following:
paint and decorating store
fabric shop
newspaper publisher
craft store
printing company
glass company
lumberyard
hardware store
interior designer
framing shop
home decorating and gift shop
party store
office supply store
photographer
sign making studio
carpet store
upholstery shop
florist
By visiting these businesses, you're likely to find materials such as ribbon, wallpaper and fabric samples, cardboard, paper, beads, foam core and mat board, scrap frames, Plexiglas, wood, dowels, cloth remnants, crepe paper, tissue, polystyrene peanuts, envelopes, PVC pipe, streamers, vinyl letters and material, linoleum, slate, carpet remnants, floral wire, and newsprint.
Others that Provide Free Materials
iLoveSchools, which is located at www.iloveschools.com, offers a free donor-matching service for teachers who create Wish Lists of their classroom needs such as equipment, materials, and supplies. Then they're matched with people who donate the items.
In addition to links to resources in Australia, Canada, New Zealand, England, Costa Rica, India, and Italy, the Materials Exchange at mxinfo.org/list.cfm has state by state listings and links to operations that offer industrial process wastes, by-products, and surpluses.
Visit The Freecycle Network at freecycle.org. This online resource encourages reuse, and it's made up of millions of members who post items that are available for free in their respective towns and cities. [Editor's note: you may also join Freeccycle.org and post requests for free materials. Nothing may be bought or sold through Freecycle.]
ReDO, which is located at www.redo.org, is an international, nonprofit organization that promotes reuse as an economical means for managing surplus and discarded materials.
I have hundreds of photos of projects available at my web site www.kid-at-art.com.

In recognition of the 50th anniversary of Hawaii's statehood, we're creating a special unit of study that will feature art, music, science, geography, and history. We'll include teachers' contributions about Hawaii theme ideas. Tell us what you've done in the past or what you plan to do to teach your students about our 50th state. We'll post some of the ideas in the Hawaii unit that will appear in The Imagination Factory's Member Links.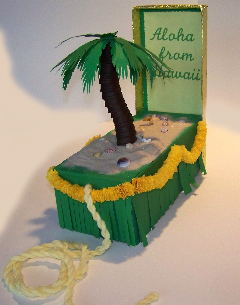 Teachers and anyone else who contributes will receive credit for their ideas. No payment will be made, but all contributors will be eligible to win a free Discover Hawaii board game. The winner will be determined by a drawing to be held this spring. The game features color photos of some of the most visited points of interest throughout the Islands, and students learn about the geography, history, and Hawaiian language as they play. The deadline for contributing material is March 7, 2009. Please send your ideas to kidatart@kid-at-art.com.

Design a Miniature Float is one of the art projects that will be published in the Hawaii unit. Created from a shoe box, the float can be pulled in a parade celebrating Hawaii's statehood.

©2009 Marilyn J. Brackney