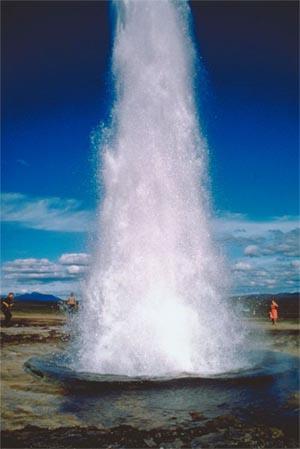 Dear Global Guru,
I'm taking my German class on a language immersion program to Berlin and am thinking about stopping over in Iceland for a few days to expose my students to another Germanic language. Is Icelandic unique enough to warrant the side trip?
Zachary Wilson
Cambridge, MA
Dear Zachary,
A visit to Iceland is well worth the time for any language student interested in etymology or linguistics because the country's national language has so many interesting idiosyncrasies.
About 1800 years ago, the Germanic languages of northern Europe broke into Western and Northern dialects. Most of the languages that resulted from this geographic division evolved until the present day with Icelandic being an exception; its language barely changed in the last millennium. Today, contemporary Icelandic speakers are able to read the Icelandic Sagas, medieval texts dating back to the Age of Settlement in the 10th Century.
The Icelandic patronymic naming system is also rooted in medieval civilization. An Icelandic person's last name is formed by taking their father's first name and adding the suffix "son" or "dóttir" for male and females respectively. So if Jón had a daughter Klara, her name would be Klara Jónsdóttir. This naming practice means that a father, mother, son and daughter from the same family all have different last names - a fact that is somewhat vexing to first-time visitors to Iceland. But when it comes to Icelandic names, nothing is more perplexing to tourists than the Icelandic telephone directory, organized by first names!
Yet another quirky "Icelandic-ism" is the extensive use of toponyms or names derived from the name of a place or geographic feature. For instance, the Icelandic word for "waterfall" is "foss," and all the names of waterfalls in Iceland, such as Dettifoss, end with this suffix. Once you have familiarized yourself with some basic geographic words in Icelandic, you'll be able to easily understand signs referring to many natural attractions.
When it comes to visiting the Land of Fire and Ice, Icelandic linguistics are just the tip of the iceberg; this amazing island-nation promises a seismic amount of outdoor sites and activities for your students to experience. Check out the Golden Triangle highlighting Thingvellir, the site of Iceland's original, millennium-old parliament; Geysir, from which all geysers are named; and finally Gullfoss, a powerful, two-tiered waterfall of glacial water runoff.
Hafa a ágætur ferdalag (have a nice trip)!
Global Guru


» More Gazette articles...