Cover Story: Alfie Kohn



Why Self-Discipline
Is Overrated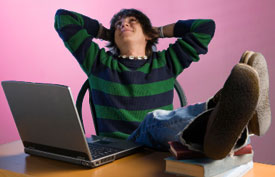 To inquire into what underlies the idea of self-discipline is to uncover serious misconceptions about motivation and personality, controversial assumptions about human nature, and disturbing implications regarding how things are arranged in a classroom or a society.


Articles


Teacher Study Groups: Taking the


"Risk" out of "At-Risk"


The alternative to flunking students is teaching them. That requires teachers' reflecting on their beliefs, perceptions, biases, emotions, attitudes, and behaviors.



By Bill Page





Can Anyone Learn to Draw?


The "natural born artist" is a myth. Even the best of them needed the motivation and desire as well as the training and time.



By Tim Newlin





Finding Free Art Materials in Your Community


When money is tight in school systems, art is frequently the first subject that suffers budget cuts...



By Marilyn Brackney





The Downside of Good Test Scores


I was teaching the way I knew would get the students the highest grades on the test. Some of the most interesting and motivating parts of social studies were being ignored as I struggled to produce high-test scores...



By Alan Haskvitz



February 2009 Writing Prompts


February sees the birth of jeans, a national park, the Supreme Court, and in Japan they're throwing beans. And then a cow flew a plane...



James Wayne




In The Middle School


In their desks, in the halls, they yell and talk of school, which has lasted forever in their lives, and will last forever, or so it seems....



James Wayne




Using Photography To Inspire Writing IV


The author of Write What You See: 99 Photographs To Inspire Writing shares his teaching techniques The fourth in a series of articles.



Hank Kellner




Teacher Performance Assessment


The quality of classroom processes is a function of how effectively a teacher guides his/her class, and the goal of teacher evaluation should be to improve classroom processes.



P.R. Guruprasad



How To Help Victims Of Bullying: Advice For Parents & Educators



The US Justice Department says 80% of all students have been the victims of some form of Bullying. It's time to start "Taking the Bully by the Horns."



Kathy Noll




Unwilling Student Meets Unwavering Teacher


I realized that if one teacher took the time to tell me that I had a future, maybe it was true.



Lauren Romano




Notes From The Jungle - International Educator in Our Time


In this excerpt, author John Price begins his candid and sometimes irreverent account of headmastering in a large school far from his native UK.



John Price




Lead the Class - Teachers as Leaders


I am writing for those of us in schools at which "self-starter" is not a phrase often applied to a student.



John Sweeting




Teachers.Net Favorites
Teachers.Netters Share Favorite Recipes



Warm up with white chicken chili and old family recipes for cornbread, chocolate gravy, and two skillet meals, shared by T-Netters on the Teachers Chatboard. Bon Appétit!





Who Really Needs Four Years of Math and Science?


I posit that increasing these requirements will increase the drop-out rate. Further, we will witness the demise of vocational education programs and fewer students enrolling in fine arts classes.



Steven Davidson




Teachers.Net Community
IMHO - Educators
Speaking Up



Memo to the New Secretary of Education and John Stossel: American students are NOT stupid.





Collective Wisdom


Technology in the
Art Classroom


Art teachers collaborate on a wish list for 21st century art instruction equipment.