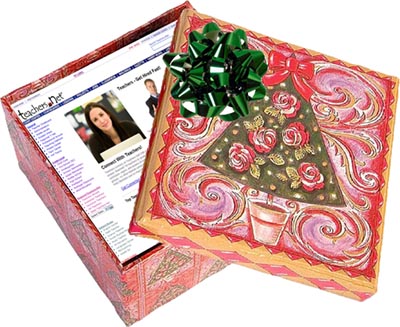 Give the Gift of Peer Support with the Teachers.Net "Share" Feature
By Bob Reap – Teachers.Net Site Developer
During this holiday season, share one of the best gifts your teacher colleagues could ever receive: Teachers.Net resources! No need to fuss with wrapping paper and ribbons… just use the NEW Share feature to alert your friends and colleagues about the biggest and best site for educators on the world wide web.
The "Share" feature allows you to easily email your friends about pages and resources on Teachers.Net, and bookmark them online. If you are a part of a social network like Digg or Facebook, you can share any page on Teachers.Net easily with all your friends on the network!
Teachers.Net is one of the most active Internet websites in education, and that notoriety comes exclusively through word of mouth. Teachers know they are the force behind Teachers.Net, and they can help others at the same time they help themselves, by helping to spread the word about Teachers.Net.
To help make it easy to share, we've installed a handy pop-up share "widget" that includes all the major share networks. Typically displayed directly below the Teachers.Net logo, look for the word "Share" and pass your mouse over it. You'll see a small control pop-up, with a selection of options for sharing that webpage.
The following social networking and bookmarking sites can now be utilized directly through the "Share" feature on Teachers.Net:
Favorites
Google Bookmarks
Delicious
Digg
MySpace
Facebook
Furl
Yahoo MyWeb
StumbleUpon
Reddit
Newsvine
Live
Technorati
Twitter
Yahoo Bookmarks
myAOL
Ask
Fark
Slashdot
Propeller (Netscape)
Mixx
Multiply
Simpy
Blogmarks

Diigo
Faves (Bluedot)
Spurl
Link-a-Gogo
Mister Wong
FeedMeLinks
Backflip
Magnolia
Seganlo
Netvouz
Tailrank
Blinklist
In addition to these social networking and bookmarking sites, you can also email the link to that webpage, along with a brief note, directly through the Share pop-up control. To email the link, pass your mouse over the "Share" link, and click on the word "Email."
Sharing links through social networks and storing your profiles online for easy access from any computer, are extremely popular trends these days. But more importantly, they also help communities like Internet teachers quickly spread word of important and helpful content. You can help teachers across your town, and around the world, by sharing the helpful content you find on Teachers.Net.
If you have any questions about the "Share" feature on Teachers.Net, or the technology in general, visit the Teachers.Net Tech Center and ask questions. Remember, Teachers.Net is YOUR community, by learning its features and potential, by fully participating, and by spreading the word, you can help make it the best tool online for teachers.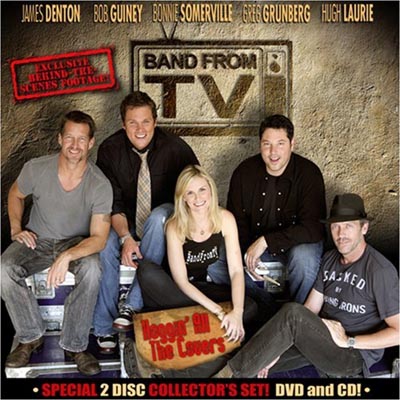 For All Who Love Music and Kids: Hoggin All the Covers CD/DVD by Band from TV

YENDOR on the Teacher Chatboard says:

Check out this new cd/dvd combo, Hoggin All the Covers on Amazon.com and order it! Great classic rock from the BAND FROM TV featuring Hugh Laurie and other tv personalities. ALL the sales from this go to charities for kids. I have it and the cd and dvd are great.

You can ONLY order it from Amazon.com. The members of BAND FROM TV donate 100% of their proceeds to charity (Epilepsy Foundation, Save the Children, Art of Elysium, Donate Life and CAPP).

Consider a "holiday gift" purchase that helps children's charities.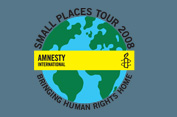 Amnesty International "Small Places" Campaign
Amnesty International invites teachers to involve their students in the "Small Places" campaign (www.smallplaces.ca), and celebrate the 60th anniversary of the Universal Declaration of Human Rights, and in the spirit of Eleanor Roosevelt's 'human rights begin in small places close to home.' Bring human rights alive in your classroom and school.
Small Places is a free, well-supported and full of opportunities for literature and writing, theatre, visual arts, and social and legal studies classes. An activity planning kit for educators is available at www.smallplaces.ca, as well as a link to lesson ideas for classes and projects. The possible ideas include: writing or art exhibits, improv or advocacy theatre, creative writing contests, poster-making, photo or flash workshops. The key focus of the campaign is for students and educators to highlight particular individuals at risk, or articles of the Universal Declaration of Human Rights.
Join small places and Amnesty will support you with personal human rights stories and petitions, postcards, posters, and advice. Contact Jenn Farr at jfarr@amnesty.ca or call 613-744-7667 (280) or 1-800-amnesty.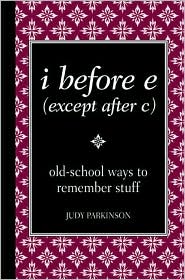 Stocking stuffer suggestion!
I Before E (Except After C) - Old-School Ways to Remember Stuff By Judy Parkinson Published by Reader's Digest - $14.95
Hundreds of Memory Tricks You Learned in the Classroom
"Thirty days hath September..." How many times have your relied on that old maxim to figure out a calendar?
Or how about "Every Good Boy Does Fine" to remember the notes on the treble clef?
These ingenious, practical memory techniques abound in I BEFORE E (EXCEPT AFTER C) with its hundreds of curious sayings. In this clever -- and often hilarious -- collection, you'll find engaging mnemonics, arranged in easy-to-find categories that include:
Geographically Speaking
Time and the Calendar
Think of a Number
The Sky at Night and by Day
Guaranteed to amuse and inform, this little book is a perfect gift for students of all ages.
Author Judy Parkinson is a graduate of Bristol University. She is a producer of documentaries, music videos, and commercials, and won a Clio award for a Greenpeace ad. Parkinson has published four books and has contributed to a show of life drawings at the Salon des Arts, Kensington.
The perfect gift for students and adults of all ages!
From The Scout Report, Copyright Internet Scout Project 1994-2008. scout.wisc.edu

Editor's Note: Check out our collection of Teachers' Favorite Mnemonics