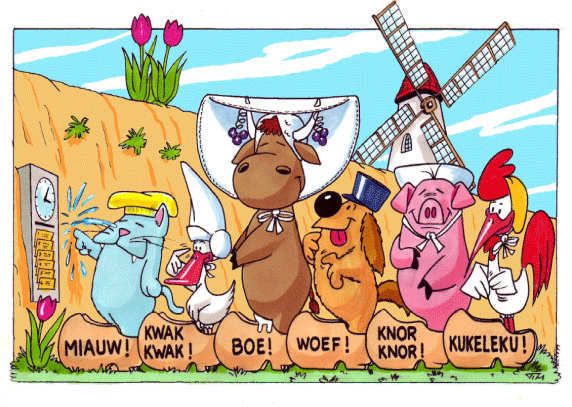 The famous Dutch children's story about the boy, Hans Brinker, who saved the city of Haarlem by holding his finger in the dike has inspired our barnyard friends to line up and take turns doing their part to keep back the waters. Canals, dikes, windmills, wooden shoes, and tulips are often associated with the Dutch.
Holland is the term much of the world uses for THE KINDOM OF THE NETHERLANDS. There are several regions or counties of the Netherlands called Holland.
Almost half of The Netherlands is below sea level and it is one of the countries that will suffer most due to climate change and global warming. The sea dike system in The Netherlands is one of the largest human constructions on Earth. It is over 3500 km (2000 miles) long, and is in a constant state of repair and change to protect the 16.5 million people who are also the tallest in the world with an average height for men of 1.81 meters (5 ft 11 in). Holland or The Netherlands is a parliamentary democracy and there are also 2 members of the parliament who belong to the Animal Rights Party (our barnyard friends will be speaking to them after their shift). It is also a member of NATO, The European Union, OECD, and has signed the Kyoto Protocol against man made climate change. The country is also the home of Europol, the EU's version of the FBI. The Shell Oil Company is Dutch and the country is also a leader in hot-house flowers and fresh vegetables for the European supermarkets. But if global warming continues and sea levels rise too fast, all this may be washed away. So let's hope our friends keep up the good finger work!
Picture Crosswords at TimTim.com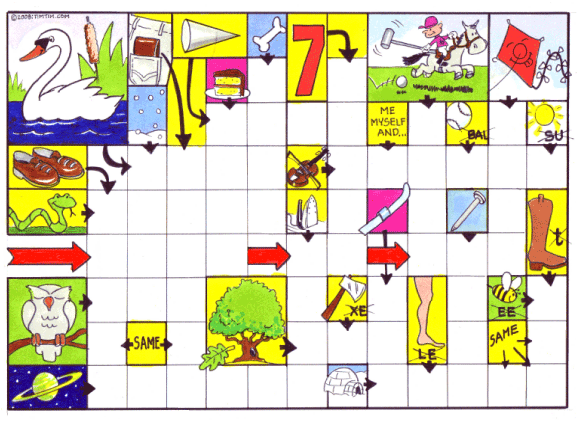 And much more available from the TimTim.com homepage

Tim Newlin
Creator of TimTim.com - Free Drawings for Classroom Use